4 Pairs of Shoes You Have to Add This Spring
With These on Your Feet, You're Ready for Travel and Adventures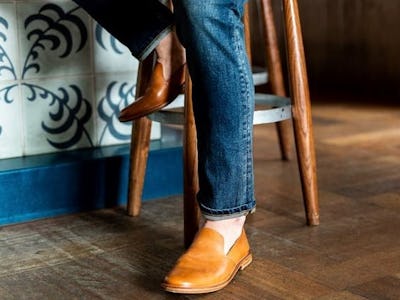 Huckberry
It's time to kick off the mud-encrusted boots and worn sneakers that got you through the winter. Choose some lightweight casual slip-ons and sandals with an eye toward warm-weather comfort and style.
Sandals for the Active
Why We Chose It The style is classic, but the navy-and-yellow color combo and the Huckberry logo on these Chacos are only available through Huckberry. With the adjustable straps and supportive footbed, Chacos are a go-to choice for all spring and summer adventures, especially those involving water.
Handmade for the Stylish
Why We Chose it Made in Northern Italy by a family that's been making shoes for generations, this leather slip-on is comfortable, casual, and damn good looking. The leather is aged for 30 days and softened with natural ingredients so it's supple and eco-friendly.
As Comfy as Slippers
Why We Chose it They are lightweight and perfect for traveling in. Crafted by some of the finest shoemakers in Turkey, the Sabah Slip-on has rubber soles designed to be resoleable for the life of the shoe. That means your-soon-to-be-favorite shoes can last for ages.
Multi-Terrain Shoes
Why We Chose It They look like fashion sneakers, but they are ready for any adventure on land or water. The stretch booties are designed for no-socks comfort, and the quick-drying uppers and drainage ports make the Nohea Moku slip-on perfect for aquatic use.