Enjoy Your Outdoor Space at Night With These Energy-Saving Solar Powered Lights
Stop feeling like you have to take the party indoors with the setting sun.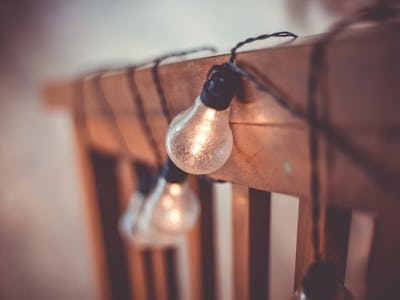 Unsplash / Bonnie Kittle
One of the most inconvenient aspects of enjoying the outdoors is that the light disappears with the setting sun. If your backyard isn't prepared with adequate light sources for when the sun sets, chances are your outdoor party will end as soon as your guests can no longer see the person they're talking to. Your party might gravitate to the indoors but on the rare night when the air is just right and everyone is enjoying themselves, it couldn't be more of a buzzkill to step inside.
Of course, there are lots of outdoor lighting options, but many of them require batteries—which can frequently die and get tedious to change—or require a plug, which can lead to high electrical bills and unsightly extension cords. The most energy-saving and cost-saving option is solar powered, but frequently, these options can be finicky or otherwise cheaply made. So I set out to find the fan-favorite solar-powered light option on Amazon, considering Amazon ranks as the largest retailer of stuff that world has ever known.
And it wasn't hard. From Sunlitec, these solar powered string lights are perfect for adding to the ambiance of your outdoor space without compromising on style or function. Given an average of 5 stars from over 1,000 reviewers, each 27-foot strand of string lights has 25 high quality LED light bulbs, which will make a big space in any space.
If your space is larger than the usual urban backyard—or you happen to be lucky enough to live somewhere suburban—you may want more than one string, but at less than $45, these prices do not compare with competing lighting options, especially considering, Sunlitec prioritizes the longgevity of their products for season after season of outdoor lighting. What's more is that unlike many outdoor string lighting options, these waterproof LED lights allow you to select from four lighting modes depending on the vibe you're looking to set. Choose from the quick flash, steady light, slow flash or pulsating lights and even alternate between all 4 for an impressive light show.
Having thought of everything, Sunlitec knows that cloudy days happen. For an extra jolt of charge, these string lights have brilliant dual charging options. In less than 4 hours, you can fully charge your solar powered string lights via USB compared to the 8 hours it takes to do so just with the sun.
Sunlitec is so confident that your lights will last longer than 50,000 hours of bulb lifetime, all purchases are backed by a 100% satisifcation guarantee and a 1-year warranty, practically unheard of for string lights of similar size and price-point.
So go ahead. Turn your outdoor space into a Instagram paradise. Keep your outdoor parties going until they reach their natural end. Become the envy of the neighborhood with an outdoor space that actually includes practical lighting.