8 of the Best Items on Amazon to Kickstart Your Spring Cleaning
After months of just tidying up, spring cleaning is a must.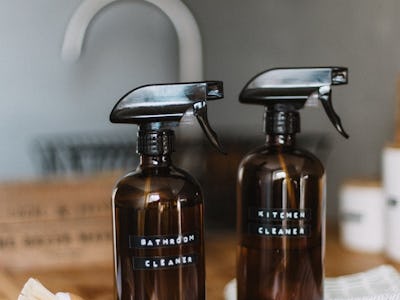 Unsplash
Life can get pretty busy, so chances are, you probably haven't deep-cleaned—like move all the furniture, get deep into the nooks and crannies—in a while. You probably end up doing the dishes, picking the toys up off the floor, and doing a quick sweep so it doesn't look like your house literally just sneezed everywhere, and that's about it. But quick cleanups can only work for so long. Eventually, the dust bunnies will assemble their army and you'll have to fight back.
More often than not, the battle is staged just in time for spring cleaning. 'Tis the season to roll up your sleeves and dive in. Deep cleaning your home can take quite a bit of elbow grease, but with the right tools, it doesn't have to take forever.
With its cyclone technology, Dyson may be able to lay claim to the title of "king of all vacuums." Dyson has some serious power behind its suction, more than enough to pick up all the things you've been ignoring. It handles well on carpets, wood, and laminate floors and the bin can be easily emptied with the touch of a button.
Mr. Clean's Magic Eraser is appropriately named: it really does function like a magic wand. One swipe easily removes tough messes and grime, making surfaces look new again. Magic erasers are especially great for door trims, baseboards, and shower doors.
No one ever looks forward to mopping, but the O-Cedar Easywring may just change that. The bucket has a built-in wringer that is operated by—you guessed it—a foot pedal. You don't even have to bend down to wring this mop out. Now that's what I'm talking about. The microfiber mop easily removes tough dirt, and the triangular shape gets into allthose hard-to-reach corners.
Okay, no one really regularly cleans anything beyond arm's length, so you're not alone there. But you can't put it off forever: The OXO Good Grips Microfiber Extendable Duster can give you a helping hand for those hard-to-reach places. With a quick twist, the duster extends to 54" and it easily retracts back to 27" for easy storage. The microfiber duster easily traps dust, and it's machine washable.
When it comes to deep spring cleaning, carpets pretty much have to be on your to-do list. Clearly, they're not something anyone deep cleans daily, but having the best tools for the job ahead of you makes all the difference for when the occasion does arise. Bissell's Powerbrush carpet cleaner has fivecleaning rows on its dirt lifter power brush that easily removes tough carpet stains. There's even a stain tool for carpet and upholstery.
With the Homitt electric spin scrubber, you won't need quite as much elbow grease to remove difficult dirt or grime. The cordless scrubber does most of the work for you, easily tackling bathtubs, tiles, and other hard surfaces.
Baking soda is a multipurpose item in your cleaning arsenal and no home should be with without it. When it comes to deep cleaning, it's indispensable. Just sprinkle some on your mattresses and chair cushions, wait about an hour, and then vacuum it up. The baking soda will remove odors, leaving your soft furnishings fresh and clean.
Using vinegar to clean hard surfaces is another blast from the past that has stood the test of time because it works. It's tough on dirt and grime without harmful chemicals. For those who don't love the scent of vinegar, Aunt Fannie's is a great alternative, as it comes in great scents like sweet mandarin and eucalyptus.