The 5 Best Smart Home Items Everyone Should Own
These items are smart home essentials.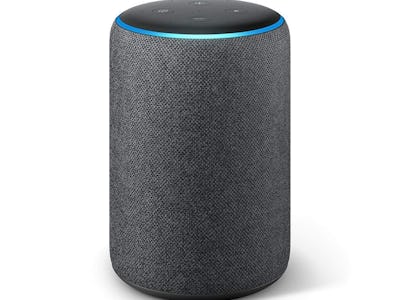 Amazon
The "Smart Home" may not be a full fleshed out industry yet, but it's been slowly making progress in several ways. Seemingly everything is smart and more and more of our devices can talk to each other in one form or another, which is important when building out your own smart home or apartment. Luckily, many products today are compatible with other ecosystems, allowing you to easily pick and choose your own smart home items. If you're just beginning, here are 5 smart home items you need for a maximum immediate impact.
Smart lights
While it doesn't matter which of the major two smart light brands you choose out of Philips Hue or LIFX bulbs, Hue is by and far more popular even though LIFX technically has better bulbs. Philips has a couple of things going for it with its smart bulbs and the biggest one is age. Originally announced in 2012, Hue has matured to become the go-to smart bulb brand. It also has a vast ecosystem that competitors try but have yet to genuinely compete with.
All that aside, smart bulbs are one of the best places to start when building a smart home. They can be controlled with your phone or smart assistant and can instantly transform a room with splashes of color to set whatever mood you're trying to create.
Smart Assistant
Much like smart lights, it really doesn't matter which option you choose between Amazon's Echo or Google Home devices, they both essentially do the same thing just in their own ways. While Amazon has been in the smart speaker market for longer, Google has years of voice recognition knowhow under its belt, not to mention, you know, the world's largest search engine at its disposal. Still, Amazon's reach shows with its lead.
A smart speaker opens up more doors than you may think. Sure, they can rattle off current events, read out or display recipes if they have a screen, or even play games with you, but they can also become a secondary hub to control your smart home with your voice. Most major smart home appliances are compatible with both Alexa and Google Home, so it shouldn't be an issue when it comes to compatibility, though some may have a preference and offer extended functionality on one platform vs another. C'est la vie.
Nest
Nest offers one of the best smart thermostats around, hands down. If you're seeking an alternative to Nest, your answer is the Ecobee4. Still, we give points to the Nest Learning Thermostat for a couple of reasons. First, it's just one of several family members in the Nest family and adding additional devices to an ecosystem that's already in place is always going to be easier. Second, in addition to being controlled via your phone app or voice assistant, the "learning" thermostat learns your schedule and automatically adjusts it over time. Of course, you can also set your own schedule, but with the Nest, you may never need to.
Smart Plugs
This is a relatively boring item, but it's also an essential one. Smart plugs like the Wemo Mini allow you to control everyday items that are plugged into them an app or voice control via a smart speaker. You can look at smart plugs as a way to retrofit dumb items into smart ones.
For a seamless experience, it's best if the items you use with a smart plug have physical on and off switches. It kind of defeats the purpose otherwise. Think of fans, lamps, and simple drip coffee makers. These items are plugged into the smart plug and permanently switched to the on position, and since the smart plug itself controls the show, the device you're using won't actually turn on until you tell it to.
Again, it's a boring item that will eventually make your life easier and that's what the smart home is all about.
Smart lock
The smart lock is a bit of a wild card for most people. Either people love it or hate the idea of it due to potential security issues. Nonetheless, the August Smart Lock Pro is about as legit as it gets.
The lock installs over your existing deadbolt, making installation painless and you keep the ability to use your old keys. You can assign and revoke digital keys to anyone of your choosing or even give someone access for a specific amount of time, which is nifty. The companion app lets you keep track of all activity with your lock so you can tell who used the lock and when.