The Best Smart Home Accessories for Your Pet
Sensors and Apps for Cats and Dogs (and Owners, of Course)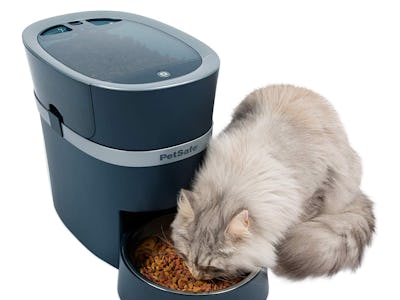 Amazon
Just as sensors and IOT Smart Home features are making living easier for you, apps and sensors can make it easier to be a pet owner. With these smart pet items, you can check in on your pets from afar, feed them when you're not home, and track them when they're outside.
Check in on Your Dog
Furbo Dog Camera: Treat Tossing, Full HD Wifi Pet Camera and 2-Way Audio
Why We Chose It The Furbo works with a free app so you can activate the gizmo, see your pup through the HD camera, talk to him, and toss him a treat. The Furbo also has a barking sensor that lets you know when your dog's barking and check in on him.
Feed While You're Away
Why We Chose It Use your phone to feed your furry friend when you're running late, or program up to 12 meals on a schedule. You can set portion sizes and even have the food dispensed slowly over 15 minutes. All the parts of the feeder that get dirty can go through the dishwasher.
Wearable Tech for Four-Legged Friends
Why We Chose It You can monitor you pet's location or activity and be notified when pets leave the safe area you've defined. The Findster has a range of about ½ mile in the city and up to 3 miles in the country and works without cell coverage.
Let the Dog Open the Door
PetSafe Electronic SmartDoor, Automatic Dog and Cat Door
Why We Chose it You can customize the access settings and the system is compatible for up to 5 SmartKeys if you have multiple pets. The SmartDoor is available in large and small sizes (small costs $94.95) and a wall-installation kit is available if you don't want to put it in a door.
Kitty Water Fountain
iTouchless EZ Faucet PRO Automatic Sensor Faucet Adapter
Sensor allows your cat to start a flow of water whenever it's thirsty.
**Why We Chose It. The iTouchless EZ Faucet Adapter can be used on any faucet in your home, making it easy for pets and kids to start and stop the faucet. It's easy to install, with all the needed tools packed in the box, and it may even cut your water bill because no one will leave the water running.