The 4 Best Coffee Makers on Amazon You Need to Upgrade To
These Top Machines Make Multiple Kinds of Beverages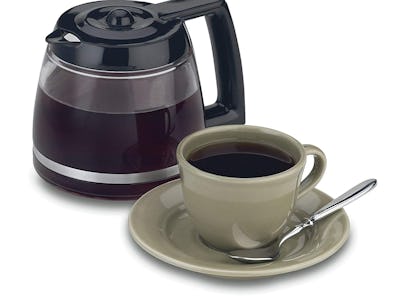 Amazon
Nothing starts a morning off right like a cup of hot coffee, but these days a good coffee maker does more than run hot water over ground coffee beans. Today's top coffee makers are multipurpose, or at least multi-beverage, machines.
For Coffee and Tea
Why We Chose It If you love both coffee and tea, the Ninja system is the one for you. It brews both beverages in your choice of six sizes and five brew styles including classic, rich, and cold brew. One really smart feature: separate brew baskets for coffee and tea keeps the flavors from mingling.
You Own Barista
Why We Chose It If you like the jolt of espresso, the Nespresso Vertuo will satisfy your taste for caffeine fast – it heats up in only 15 seconds. The machine works with Nespresso Vertuo capsules so you get the perfect single-serve drink every time you use it.
A Latte More
Why We Chose It This Keurig machine comes with a dishwasher-safe milk frother that'll work on any kind of milk – from real dairy to soy or almond. The water reservoir holds up to 60 ounces of water, so you don't have to refill it every time you want a hot beverage.
Coffee Maker That's Up Before You Are
Why We Chose It This Cuisinart coffee maker has 24-hour programmability – set it, forget about it, and wake to fresh-brewed java. It also has an auto shutoff feature (you can set it for as long as 4 hours) so no more of those "did I turn the coffee maker off" worries.