7 Best Dog Grooming Products on Amazon Right Now
Help Your Pup Look and Feel Great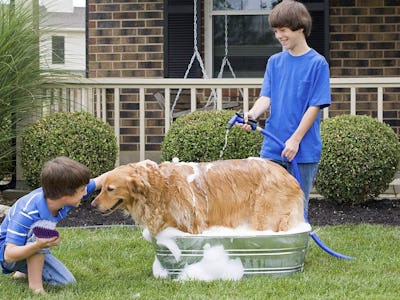 Amazon
Dog grooming appointments can be pricey for you and stressful for your pet. Turn grooming time into bonding time with a few simple supplies and try doing some of the grooming tasks yourself.
Control the Shedding
Why We Chose It The ergonomic handle on this deshedding tool makes it comfortable for you as well as your pooch. Design includes an ejector button to easily release hair. It's designed for coast that are 2 inches or longer.
Reduce the Odor
Nature's Miracle Supreme Odor Control Natural Oatmeal Shampoo & Conditioner
Why We Chose It Honey sage scent sounds s way better than stinky fur and it offers long-lasting odor control. This Nature's Miracle shampoo is soap-free so it doesn't eliminate essential oils from your dog's skin, eliminating worries about dry skin.
Cut with Care
Why We chose it This set of three scissors includes straight, curved and thinning shears so you've got what you need to detail, trim and thin fur on any part of the body, including around the eyes and ears. The handles are ergonomic with non-slip finger rings so your hands are less likely to tire.
Have Neat Nails
Why we chose it These plier-style clippers have a built-in guard you can adjust to prevent overcutting Spot's nails. The red plastic grips make them comfy in your hands, and the stainless steel means they'll last for years.
Take Along a Towel
Why we chose it The Dog Gone Smart Shammy is made from super-absorbant microfiber and will soak up way more water than the average towel, and it's small enough to take to the park. It's designed with hand pockets on each end so you've got a good grip while drying your dog.
Quiet Clippers
Why we chose it This clipper kit comes with a two-speed cordless clipper that works great on any kind of dog hair, including straight and short hair. The clipper recharges with a USB cable and carries a life-time replacement guarantee.
Make It a Massage
Hertzko Pet Bath & Massage Brush
Why We Chose It The Hertzko Bath and Massage Brush has soft rubber bristles that will provide a comfortable massage while attracting loose hair, and you can use it for bathing your pet or giving him a relaxing brushing. To clean it, just rinse it out.