Do You Own a Go-Bag? You Should Own a Go-Bag. DIY Yours Here.
According to Ben Franklin, "By failing to prepare, you are preparing to fail." Prepare!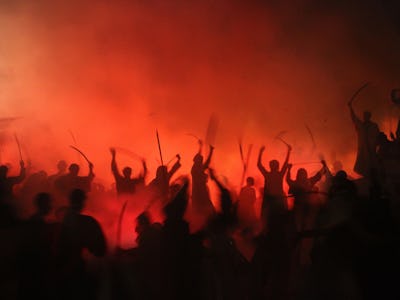 Unsplash / Hasan Almasi
What if you wake up to an apocalypse and you have to run to get ahead of the Zombies? What if you suddenly realize you are the target of an elaborate plot where you're the fall guy if you don't skedaddle? How about if a portal opens to another dimension that will close in a few seconds? What if an alien spaceship — full of gorgeous, gentle people — comes to take you back to their utopia because your Tweets are so enlightened?
You, unprepared: "Um. Hold on. Let me just pack a few things. Oh, crap, no clean underwear. Have you seen my passport? Are we seriously out of toothpaste, RIGHT NOW! Where do we keep those little bottles of conditioner?"
You, prepared: "Let's go!"
A Go Bag is ready. It has everything you need, already packed. It's prepared for everything from portals to the apocalypse to an alien utopia. You need one. Here's your shopping list.
The key to this whole Go Bag concept is the bag. It has to be durable, waterproof, easy to carry, minimal, and always packed. That means you have to buy a bag and dedicate it to this idea. This one, with it's matching Dopp kit, is perfect.
Obviously, you don't know what the lighting will be like in the emergency that comes. Bring a self-sufficient flash light. The 1TAC TC800 Tactical Flashlight Kit is rechargeable, waterproof, bright, and durable. Get one.
Hopefully there will be power wherever you are going. But will it be American power? Just throw the Twist Plus World Charging Station in the bag, to be safe. You will be able to plug your phone in wherever you land, as long it's on Planet Earth.
Will there be power in the apocalypse? It's hard to say. Fortunately, packing a solar charger is easy enough. And this SolarJuice 26,800mAh External Battery will also charge via outlet if the power grid remains intact. This one is portable and affordable. If there is no sun to charge it with, keeping your phone charged might be the least of your worries.
Plenty of cash. Your passport. (Several of them if you are the kind of person who has multiple identities for your go bag. Though you probably don't need our help packing if that's the case.) A credit card with no balance. Copies of important documents, stored on flash drives. Put those in a safe you can take with you. This one works.
Throw a five-pack of underwear in your go bag that you won't pilfer when you fall behind on laundry. Because when you have to go, you'll be happy you have clean underwear with you.
Women should pack underwear and something like the Amazon Essentials Women's 4-Pack Camisole, a super useful essential. You can get away with a lot of outfits if you throw a cami on under it. Great for sleeping in, too.
Bring a good water bottle. Preferably one with the capacity to keep you hydrated for the duration. This one will also let you grab a healthy portion of coffee and keep it with you, hot, for many hours.
Unless you are the kind of person who rolls every day with a knife in your pocket, put a knife in your go bag. Good for everything from cutting an apple to detangling yourself from a snare trap, do not go into the unknown without one. The Ellis is gorgeous, small, and boasts a screwdriver and beer opener.
Pack a toothbrush! Will they have dentists in utopia? Who knows. So bring a good one. The AquaSonic Black will keep your pearly whites in fine form and it comes with a travel case. Don't forget the toothpaste and floss.
You might not have time to look up the weather and think about your wardrobe but stashing a packable down jacket like this 32 DEGREES Womens Ultra Light Weight Down Packable Jacket in your go bag will cover a lot of bases. Jam it into a small stuff sack and it won't take up any room but it'll be there when you get cold. This one, from 32 Degrees looks good and is affordable enough to leave in your go bag.
Stash some basic clothes in this bag. The idea is that you can grab it and run. You aren't packing for vacation. But your don't want to have to wear that tee shirt you have on now for the rest of your life either. These Performance Short-Sleeve T-Shirts are easily washed and dried in whatever dingy hostel sink you find yourself holing up in for a few days.