6 Tech Backpacks Everyone Wants
Carting around your laptop and other tech gear can be stressful if you don't have the right bag. Whether you're just heading to the office or flying the friendly skies, these six backpacks are perfect for transporting your tech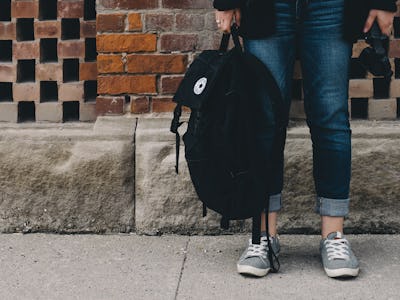 Unsplash / Scott Webb
These days, everyone is carrying more gear. Whether you work independently in a coworking space or find yourself always flying to your next meeting, you need a sturdy bag that can stand up to the challenge. And while there are plenty of stylish handbags or attache cases that can double as a carryall for your tech, sometimes you need something specifically designed for protecting your electronics, plus a little bit more. These are a few of the top-rated tech-focused backpacks that you can find on Amazon.
##XDesign Travel Laptop Backpack
There's nothing more frustrating than being in transit and having a battery on the verge of dying. Sure, you should bring a backup battery. But it's even better when your bag can also act as a charger. This XDesign backpack not only carries your laptop but comes with a built-in USB charging port. However, the battery pack is not included. The laptop compartment can accommodate computers up to 16 inches. Another nifty feature is the headphone jack compartment so that you can easily snake cables into the backpack and stay truly hands-free. The neutral color and padded adjustable straps ensure comfort for prolonged wear and a low profile style that won't clash with your outfits.
##Laptop Backpack with USB Charging
Sometimes you want a bit more choice when it comes to choosing your backpack colors. Like the previous backpack, this one also offers a USB charging port (battery not included) but emphasizes the enhanced storage. In addition to a large array of color options, you can choose between two sizes. The smaller style can hold laptops up to 15.6 inches and the bigger version fits 17-inch laptops. This particular laptop backpack also comes with a travel strap so you can securely attach it to your luggage for easy transport when you're on the go. The water and scratch resistant material also make it an ideal choice for travel or more rugged activities.
##SWISSGEAR Large ScanSmart 17-inch Laptop Backpack
SWISSGEAR is a well-known luggage brand, so it's not surprising that they made this list. While this bag doesn't feature the USB charging ports or headphone cable compartments, it has something much better for frequent flyers. If you happen to have TSA Precheck, CLEAR or Global Entry, then this laptop backpack is ideal. Rather than having to remove your computer or other electronics, this SWISSGEAR backpack features ScanSmart technology for unobstructed x-ray views into your bag. The TSA friendly bag is only available in one size that accommodates laptops up to 19 inches. However, you can choose from nine color options.
##YOREPEK Travel Laptop Backpack
Anyone who's traveled through an airport knows that complicated bags can be a pain when you're crossing through the TSA checkpoint. This laptop makes your next trip to the airport a breeze since it offers a complete 180-degree zip feature. YOREPEK also offers ScanSmart technology for a pain-free experience through airport security. Like the other laptops on this list, this bag also includes a USB charging and headphone port—battery not included. There are two size options available. Choose between a 15.6-inch bag or a 17-inch version. The four main zippered compartments offer plenty of storage with additional side and front zippered pockets for easy access to frequently used items. The top handle is reinforced with a steel cable for a sturdier grip. More importantly, the back features an ergonomically designed cushion for added comfort.
##Kopack Lightweight Laptop Backpack
If you don't need a hefty bag with an overwhelming number of external pockets and compartments, Kopack's low profile and sleek backpack might be the perfect alternative for you. Kopack's design is ideal for people who don't want a backpack that looks like a laptop bag. The laptop compartment is technically listed as hidden because it's closer to the back of the bag. But this bag also features many of the bells and whistles that other bags on this list have such as the USB charging port (actual battery is not included), headphone cable compartments, water, and scratch resistant fabric and padded straps for added comfort. Kopack's laptop backpack is available in three colors and two sizes: one up to 15.6-inch laptops or a larger option for 17-inch laptops.
##Case Logic DLBP-116 16-Inch Laptop Backpack
Case Logic is another well-known brand that routinely makes electronic bag accessories. Their laptop bag is also available in two sizes and color options; fitting laptops from 15.6 inches to 17 inches depending on the style you choose. Compared to the other bags on this list, Case Logic's is strictly for transporting your tech. While it doesn't feature charging ports, cable access or even TSA friendly access, the focus is on getting your gear from point A to B in one piece. The highlight of this bag is that the inner lining is felt to help prevent any scratches whether on your laptop, tablet, mobile phone or even in the sunglasses compartment. Case Logic's backpack is only available in a 16-inch size but is available in two colors.