7 of Our Best Eco-Friendly Picks for Cleaning Up After Your Puppy
Your fur baby can have quite a large carbon footprint.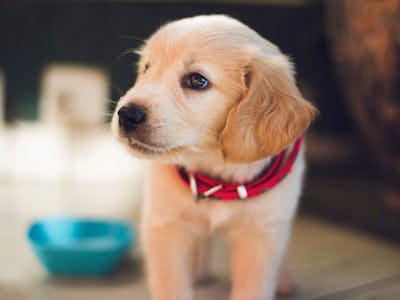 Unsplash
Everyone wants a puppy — they're cute, they're fun, and you can boop their noses to your heart's delight — until things get messy. And anyone who's ever had puppy knows that things can get dirty pretty quickly. Not to mention, the carbon footprint that comes from pet waste and the products you use to manage your life with your beloved fur baby can be quite large.
Luckily for you, there are quite a few products on the market that take your concerns for eco-friendly products into consideration. Here is a list of seven of the best eco-friendly products for cleaning up after your puppy.
Rocco & Roxie stain and odor eliminator is a bio-enzymatic cleaner. In layman's terms, the cleaner works by releasing bacteria which then feed on ammonia residue found in pet urine. Rocco & Roxie is chlorine free, with no hazardous propellants.
The Good Natured Saving Grace carpet cleaner uses the natural antibacterial properties of eucalyptus and lemon to work on tough odors. It's made with all natural ingredients, it's non-toxic and safe for family and pets.
Ethique Eco-Friendly dog shampoo is made from all-natural ingredients like manuka, coconut and neem, and tea tree oils. The bars themselves are also compostable.
Puracy Natural Carpet cleaner is plant-based with no phosphates, sulfates, bleaches or petrochemicals. Its high user ratings indicate that there's no lack of effective cleaning power. Puracy can be used on any washable surface.
Good Life solutions is a bio-enzymatic cleaner that uses all-natural ingredients to get to work on tough stains and odors. Good Life Solutions donates one percent of their gross sales to environmental non-profits annually.
The Green Pet Shop bamboo training pads are absorbent and quick drying so your pup doesn't track its business everywhere. And it's made with bamboo one of the most highly sustainable plants on earth, ok maybe that's a bit much but you get the idea.
Dog poop bags are eco-friendly and biodegradable. It also keeps odors to a minimum. Who doesn't like that?