The Most Consummately Ridiculous Game of Thrones Items You Absolutely Need
Wear your geek proudly so your people recognize you when they see you!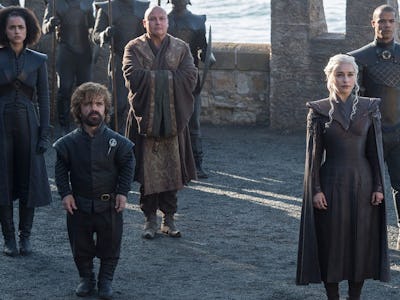 HBO
You probably have a weekly GoT party to go to, don't you? What do you wear to something like that? Leather shoulder pads? Suit of armor? Something with a lot of fur? Nothing at all?
Those are just dreams. No one has the time or budget to pull together the corsets, armor, braids, and weaponry that would be necessary to dress as your favorite character. (Well, naked would be easy but perhaps a bit awkward.) And you would probably be uncomfortable. This is all about accessories. And we have them. The craziest, nerdiest, easy-to-wear-or-carry GoT gear you must have.
The real question here is not, should you get this. But why don't you already have it? Season 8 has already started. Wear this to your Game of Thrones party and everyone will have to call you King and get you beer. Try to keep the evil tyranny under control, though, okay?
Masterful. Everyone wants that throne. But who has room for it? And the ergonomics must be awful. But bookends? Yes! Use these to hold up your hardback collection of the Game of Thrones books, because only a poser would watch the show and not read the books.
How differently things might have gone if Hodor had had one of these, eh? Well, you needn't suffer his fate. And, if subtlety is more your style when it comes to geeking, just keep it quietly by the door so that when the time comes to hold that door closed (or open) everyone will enjoy the joke all the more.
Not to beat that door joke to death but why not get the set? It took many episodes to get to that punchline. Why hold .. er hodor .. back? This Hodor doormat will let everyone know who they are dealing with before they come in.
Show your allegiance to House Targaryen with this adorable hat. Sure they are outcast now and there has been some darkness in the past, a bit of child abuse, fire, rape, and incest but…dragons! Wear it with pride.
3 Game of Thrones House Sigil Oven Mitt
All the houses sigils are represented on this cunning oven mitt so you won't get burned while prepping snacks for your viewing party. Because, unless you are the mother of dragons, you aren't going to be the unburnt either if that pan is hot.
You mean to say that you haven't read the books? Don't even own them? (cough Poser!) Time to correct that before anyone finds out. Here it is in a beautiful leather-bound edition. But you can get the paper, hardcover, or Kindle if you prefer.