A Draft of 'Straight Outta Compton' Had Dr. Dre Beating Dee Barnes
Director says he didn't want to get distracted by side-stories.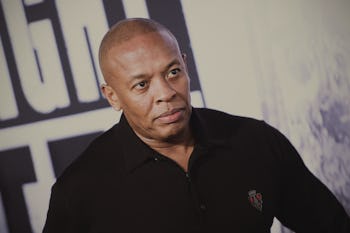 Getty
The N.W.A. biopic Straight Outta Compton, which was produced by Dr. Dre and Ice Cube, didn't feature any scenes of Dr. Dre or Ice Cube beating women. This predictable turn of events has led to a predictible line of criticism: The film failed to tell the whole story because it was easier and more self-aggrandizing to not. The incident that's been mentioned in almost all the takedowns of the film is Dr. Dre's 1991 assault of music journalist Dee Barnes. And we now know that crime actually made it into a draft of the screenplay.
According to Barnes' account, Dre nearly murdered her in retaliation for running an interview with Ice Cube, who had recently left the group. Dre ran into Barnes at a record release party shortly after the Cube story dropped and, feeling disrespected, slammed her head and body into a brick wall as his bodyguard held the crowd back at gunpoint. He then chased her into a women's bathroom and continued to assault her.
The Los Angeles Times reports that the battery, which is not in the final cut, was included in one version of Jonathan Herman's script. Here's a sample of the dialogue obtained by Times writer Gerrick D. Kennedy describing the scene:
Dre: Saw that [expletive] you did with Cube. Really had you under his spell, huh? Ate up everything he said. Let him diss us. Sell us out.
Barnes: I just let him tell his story. That's what I do. It's my job.
Dre: I thought we were cool, you and me, but you don't give a [expletive]. You just wanna laugh at N.W.A, make us all look like fools.
The closest Dre has come to addressing the incident — along with the allegations he beat former girlfriend Michel'le — was a pull quote delivered as part of a press tour article in Rolling Stone. "I made some fucking horrible mistakes in my life," he said. "I was young, fucking stupid. I would say all the allegations aren't true — some of them are. Those are some of the things that I would like to take back. It was really fucked up. But I paid for those mistakes, and there's no way in hell that I will ever make another mistake like that again."
He hasn't always been so reflective, playing the story for laughs in "Guilty Conscience" on Eminem's debut album when his protege rapped: "You gonna take advice from somebody who slapped Dee Barnes?"
After an audience member called bullshit, Director F. Gary Gray defended the decision to exclude the assault from the movie at a panel to promote the film last week. "You could make five different N.W.A movies," Gray responded, saying he didn't want the narrative to get mired in historically accurate subplots.
As for Barnes' thoughts in all this, the writer has a thoughtful retrospective of her time in N.W.A.'s orbit at Gawker, including her reaction to the film's "revisionist history." She writes:
That event isn't depicted in Straight Outta Compton, but I don't think it should have been, either. The truth is too ugly for a general audience. I didn't want to see a depiction of me getting beat up, just like I didn't want to see a depiction of Dre beating up Michel'le, his one-time girlfriend who recently summed up their relationship this way: "I was just a quiet girlfriend who got beat on and told to sit down and shut up."