Banksy's Dismaland Amusement Park Opens in England
It's like the Magic Kingdom, but without any magic whatsoever.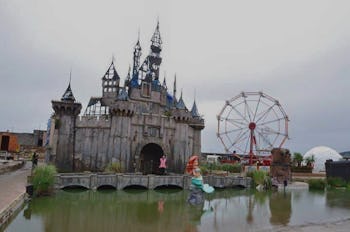 Banksy Dismaland Facebook
Banksy has opened a new, artsy theme park at Tropicana in South West England. The park features work from Damien Hirst, Jenny Holzer, and Jimmy Cauty, in addition to 10 never-before-seen Banksy pieces. And soon there will be music as well: Run the Jewels, Savages, and Pussy Riot are all scheduled to play this summer. But the project isn't as bright and sunny as it sounds.
The exhibition, called Dismaland, is a "twisted 'bemusement park'," and, according to Banksy, designed to be mildly unpleasant:
I loved the Tropicana as a kid, so getting to throw these doors open again is a real honour. I hope everyone from Weston will take the opportunity to once more stand in a puddle of murky water eating cold chips to the sound of crying children.
Sure, the art looks creepy, and the chances for a sunny day are slim, but Dismaland actually sounds pretty great! The irony is that, between the art and the music, it's a must-see exhibition. For alternative artists like Banksy, there often comes a point when they can't surprise or shock people easily because that's exactly what the fans want and are expecting. Bansky has clearly hit that point.
But the upside of no longer being able to shock is being able to go commercial. And Dismaland is commercial, albeit in the weirdest way possible.