"Costumes" That Are Going to Be Your Pajamas
You're home! Wear what you want. These 'pajamas' will play well with your fantasies.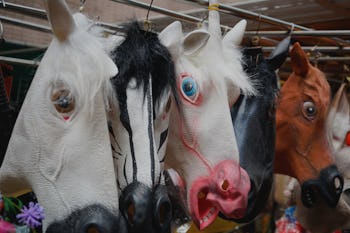 Unsplash / Balazs Fejes
Adulthood has its perks. You get to drink coffee and alcohol, live in your own apartment, pay for everything yourself, and wear sleepwear Mom would not approve of. But compare these to the perks of childhood – namely footed pajamas that make you look like a tiger – and it starts to feel like a con job.
Screw lingerie that leaves nothing to the imagination! We want PJs that invoke our imaginations!
Unicorns are rare. But they do exist. If you are one – or know one – this is must-have PJ territory, right here. Cute, cuddly, and comfy enough to wear all day – and all night. (She doesn't have to know you got it on sale.)
Start the new season of GoT in this flowing gown like the one worn by Melisandre, the Red Priestess. Sexy, dangerous, somewhat fickle and confusing. Right on! That's how we roll. Extra points for covering our problem areas and competing with the bathrobe for comfort.
If you were an animal, what would you be? Platypus? Squirrel? Raven? Explore your animal nature in one of these adorable, fuzzy costumes from Kigurumi. You will be so cute! But you will also be comfortable and warm. So, if you have to run outside because the fire alarm goes off, you don't have to shiver. In fact, maybe you'd rather squawk or growl?
Write your own fan fiction in this cute Star Trek dress. Ask yourself, "What would Uhuru do?" Then do that. Pop corn in front of the TV? Chat on the phone? Open a communication channel between her people and an alien race? Spock? It's your dress. You decide.
Your spidey senses will be all warm and fuzzy in these cozy jammies. And, if you know any kids, they will be jealous. Because not only do you get to wear fuzzy jammies that make you look like a super hero? You can drink cocktails or coffee in yours. Also? You make your own bedtime. Adulting isn't so bad after all.