6 Tech Gadgets to Help You Find Lost Items
Quit wasting time looking for your important items with these tech gadgets.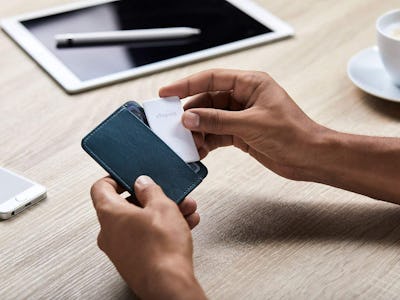 Amazon
How much time do you spend each day looking for lost items? Well, if you're like most people, there's a good chance you spend several minutes a day searching for your phone, car keys, wallet or even your fur baby (yes, they do get lost a lot!).
But what if you had access to a tech product that could help you locate these precious items in a matter of seconds; would you try it? The good news is, there are several simple tech solutions that can help save you time and energy looking for the things that matter the most.
Tile Mate
If your keys spend more time lost than they do in the ignition, than investing in the Tile Mate could be a real game-changer. Made by Tile, this small cube-shaped device can hook on your key chain or any other item that has a hook. If you misplace your keys, simply send a signal from your smartphone, and the Tile Mate will ring until you find it (must be within the 150ft Bluetooth range).
Tile Mate $22.98
Whistle 3 GPS Pet Tracker and Activity Monitor
Dog and cat lovers — this one's for you. The Whistle 3 GPS Pet Tracker and Activity monitor not only helps locate you fur baby, but it also tells you if they're getting enough steps in each day. The device itself goes around your pet's neck like a collar. Then, you track your dog or cat through a subscription (yes, it costs money) on your phone. You can also use this to spy on your pet when you're away from home!
Whistle 3 GPS Pet Tracker and Activity Monitor $94.90
Chipolo Card
Finding space for one more card in your wallet can be a real pain, but making room for the Chipolo Card may save you a whole lot of time and frustration if you lose your wallet. Thin like a credit card, the Chipolo Card can fit in your wallet, bag, purse, or pretty much anywhere you want. If you lose your wallet, you can ring the card from the Chipolo app on your smartphone.
Chipolo Card $33.00
Rinex Smart Tracker
If the price tag of the Tile Mate is a little too steep, then check out the Bluetooth key finder from Rinex. For under $20, you get a simple tracking device that can help you find your keys, backpack, luggage or any other item that you regularly lose. To use, just log into the app, press a button, and if the Rinex is within tracking distance, the alarm will sound.
Rinex Smart Tracker $19.74
Click 'n Dig
If you're spending way too much time digging in the couch to find your TV remote, you might want to give the Click 'n Dig a try — especially if you're looking for a tech device that's under $10. In addition to being affordable, this small tracker does not rely on your smartphone. Simply secure the receiver on your remote and activate the transmitter. Once located, the receiver will beep and flash so you can find it.
Click 'n Dig $8.95
Orbit Glasses
What's worse than losing your keys or phone? How about misplacing your glasses. The problem with a lot of the popular trackers is they're just too big. But not the Orbit Tracker. This tiny Bluetooth device can fit on the inside of the arm of many different styles of glasses. You can find this gadget on Amazon after March 20, 2019.
Orbit Glasses $39.99