How to Program a Sex Mode for your iPhone
There's nothing less erotic than a series of informative beeps.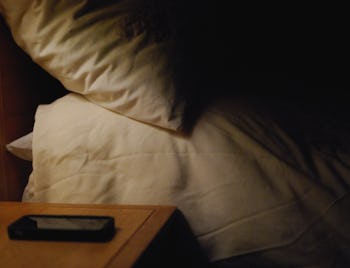 As smartphones become an increasingly important part of our lives, it is incumbent upon all of us to protect our persona and very personal time from digital intrusion. Because of the way iOS products work, getting our phones to stop interrupting us can be as hard as teaching ourselves not to interrupt others with our phones.
A concerted effort must be made — and all the more so when it come to sex.
But can the increasingly popular apps we use to regulate signaling during meetings be useful in a more intimate setting? Well, yes, if you know how to use them right. An app like AutoSilent, which goes for $2.99 through the App Store, could be the difference between a fulfilling night of sex (and sleep) and a fumbling embarrassment. Here's a quick guide to making it work:
1) After purchase and download, AutoSilent immediately requests to peruse your schedule, asking if you want to go quiet for any events you have upcoming.
2) The easiest way to proceed is to "schedule" a time when you intend to get busy — say, Friday night to Saturday morning. Don't think of it as an appointment, but as a peak in probability. During that time, AutoSilent will block all texts, alerts and other alarms you have set. Not a peep.
3) The catch is you have to keep AutoSilent running in the background. So don't swipe it closed once you've set your timeframe.
4) AutoSilent can also be programmed to obey "location events." If you're headed to a significant other's, or planning on getting busy at your place for the evening, you can input your address and a radius. AutoSilent uses location services to sense when you are within that area, blocking all notifications until you leave. Input a start and end time — or have the event run indefinitely — and boom, your phone falls as quiet as a church mouse.
5) If you don't have time to schedule time or set location events, AutoSilent has a Timer feature. Here, you can set an hour or more (or less) during which your phone remains silent. Do this surreptitiously or not at all.