8 Super Cool Products Made From Recycled Materials
Shrinking landfills one purchase at a time.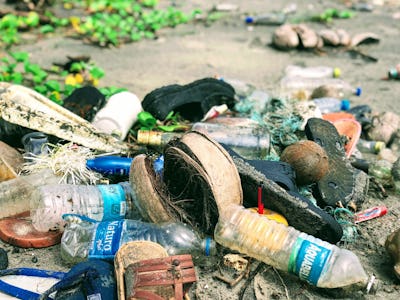 Unsplash
The world is quickly running out of places to put all of our trash and, at the same time, we're rapidly depleting the limited natural resources required to make all of the junk we're throwing away. It's a seriously wasteful cycle that can't go on forever. The solution? Consider buying products made from recycled materials. There are so many creative ways to repurpose discarded plastic, metal, cloth, glass, you name it! And clever companies are figuring out how to give you the products you want without the environmental guilt. Here's a list of some of our favorite items helping to put a put a major dent in those overflowing landfills.
1. Alchemy Goods Recycled Messenger Bag
Cycling is one of the most popular and convenient means of transportation, but once those rubber bike tires get worn down they're tossed into landfills along with all the other man made waste we produce. Alchemy Goods is trying to eliminate this problem by turning used bicycle inner tubes into stylish and functional messenger bags. Somehow they managed to make old bike tires look like high quality leather and we're totally about it.
2. Cotopaxi Teca Half-Zip Windbreaker
If you're into bright colors and eighties vibes then this is the jacket for you. Cotopaxi is known for its commitment to ethical business practices and sustainable means of production, which means you can feel great about wearing their gear. This windbreaker is made of recycled polyester taffeta and sports lots of cool features like a kangaroo pouch, a designated phone pouch, and a form fitting scuba hood that'll help keep out the wind. So whether your on a mountaintop or trekking through the city, this jacket is a solid purchase.
3. Norton Point Recycled Sunglasses
Protect your corneas and the planet with these hip sunglasses from Norton Point. They're made of recycled plastic that's been removed from the ocean- which will pretty soon contain more plastic than fish- so it's a pretty big deal. Yes, these shades are a bit pricier than your average pair, but it's well worth it if you factor in the 5% of profits that are donated to ocean cleanup efforts.
4. Recycled Firefighter Bifold Leather Wallet
A high quality wallet is one of those personal belongings you'll use for years, so when it's time to get a new one you'll want to do it right. If you're in the market for an upgraded spot for your cards and cash, we recommend this little bifold from Huckberry and Recycled Firefighter- it truly walks the line between practicality and sustainability. With a simplified design boasting two versatile pockets, the creators of this wallet use the leather from recycled military combat boots, which guarantees it to be a reliable and sturdy choice for your valuables.
5. Upcycled Vinyl Record Coasters
We all know the old saying: one man's trash is another man's treasure, and these coasters live up to the hype. There's probably tons of junk sitting in your dad's basement, or your grandpa's attic just waiting to be repurposed… well, someone finally did it. Now's your chance to incorporate some retro flare into your life and update your kitchen or living room situation. These creative coasters are made out of the labeled center section of unwanted vinyl records, so they can take up less space in your attic and more space on your coffee table.
6. Coal Headwear Recycled Beanie
From excessive water use to unused material, the manufacture of clothing has become one of the most wasteful production processes there is. That's why sustainable fashion is becoming so popular, because it's both ethical and fashion forward. This beanie from Coal Headwear uses recycled cotton yarn leftover from the manufacture of other items, so that you can stay cozy without the guilt.
Next up on our list is this extremely unique accessory from WeWood watches. This company uses remnant wood from exotic hardwood trees to create beautiful timepieces, and plants a new tree for every watch they sell. It's a conversation piece and practical addition to your wardrobe that won't go unnoticed or unappreciated.
8. Fab Habitat Weather Resistant Rug
Looking for a rug that's aesthetically pleasing but also easy to clean? Something for your kitchen or bathroom perhaps? Here's an option from Fab Habitat that's made entirely of recycled plastic. It comes in eleven colorful patterns that are sure to spruce up the drabbest of floors. Oh and bonus- they're reversible!