Trailer for 'The Witch' Makes Colonial New England Utterly Terrifying
The Sundance hit will be released sometime next year.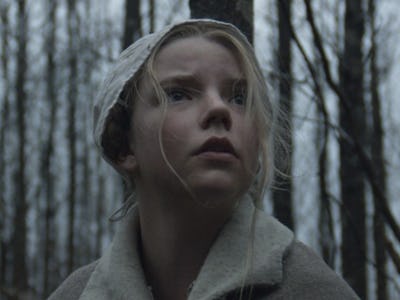 a24films.com/films/witch
The new trailer for Sundance hit The Witch from rookie director Robert Eggers just dropped and boy, we're glad we watched this one in a crowded office during the day. It is, in a few choice words, fucking creepy. The movie took the Best Director award at Sundance and was quickly scooped up by upstart film production company A24. There's no exact release date at the moment, but it'll spook everyone out sometime in early 2016.
Set in 17th century New England, the movie tells the story of a family, led by a man named William (played by Ralph Ineson), who cross the Atlantic to live in the New World but are driven out of their Puritan settlement because they are too religious. They soon set up a small farm on the edge of town to live and worship, but when a grotesque witch in the nearby woods steals their newborn baby, their crops are blighted, their animals spout blood instead of milk, the kids start speaking to the family goat they call Black Phillip, and their religious lives begin to unravel. Cue: viewers hiding behind their hands in terror.
As you can see by the trailer, Eggers and his cinematographer Jarin Blaschke go for a heightened but realistic approach, which only makes the unseen supernatural aspects more genuine. The production even apparently recreated entire period-appropriate villages to make the horror as authentic as possible.
Horror movies with witches are as old as the medium itself, and it's great to see a filmmaker trying to tackle an old trope with a unique and utterly terrifying vision. If the reactions out of Sundance — and this trailer — are any indication, we may have a new horror classic on our hands.