Corpse Flower Blooms in Denver, Disappoints Hordes with Its Tolerable Smell
We were told there would be retching.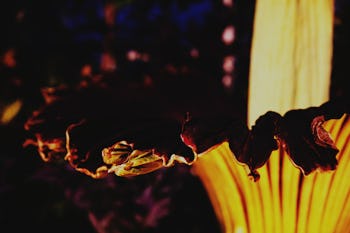 Getty Images
An Amorphophallus titanum began to bloom in Denver last night and, for many, it didn't smell quite enough like old hockey pads smothered in Époisses de Bourgogne. The "corpse flower" has been known to stink of just that, so much so that the Denver Botanic Gardens prepared visitors with sickness bags. That's right: The massive crowds, which began to line up at 4:30 a.m., were given barf bags as if they were boarding the ferry to Cozumel on a windy day. To their disappointment, these, um, thrill-seekers were met with a faint whiff instead of an olfactory onslaught. A Denver Post headline says it all, "Denver corpse flower: Early visitors disappointed by lack of stench."
The plant is an impressive specimen to be sure, as the Botanic Gardens explains: "The incredibly stinky corpse flower, Amorphophallus titanum, is blooming at the Gardens. The plant's first bloom occurs after 8-20 years of vegetative growth. Sometimes, it takes as long as 7-10 years for a second bloom." Perhaps they should amend that "incredibly stinky" part of the description. How about "potentially stinky" or "almost stinky"?
Still, the early visitors — who are now waiting three hours or more — have been legion. Reached for comment, former Post staffer and man-about-town Bill Husted says, "It reminded me of the plant in that musical: What's it called? Anyway, lots of people there — craning their necks to see something that doesn't smell yet." A Little Shop of Horrors, indeed.
The governor even chimed in with this dispatch:
The flower probably won't smell too much, at all, as it goes through its first day in bloom. But you can keep track of potential barfers on the StinkyCam stream while pondering what would drive a person to want anything to smell awful. Maybe the Botanic Gardens should set up a shuttle service at the exit and the visitors can all just move to midtown Manhattan during July, when the garbage fragrance blooms like you wouldn't believe.