AirTaps Wireless Earbuds: True Audio Freedom
You Can Afford to Cut the Cords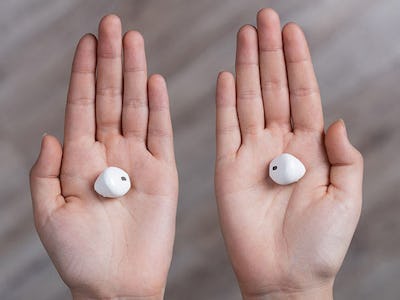 Inverse Shop
We know you've been holding out for as long as possible, but now is the time to do it: Cut your tangled headphone cords and buy the AirTaps.
There once was a time when Bluetooth headphones were expensive, gimmicky, and sub-par quality. Those days are long gone. Instead, we now have better quality, better design, and even better ways to recharge on the go.
Wireless v 'True Wireless'
The AirTaps Wireless Bluetooth Earbuds are True Wireless. Let's face it: Most regular wireless headphones are the 'gateway' to True Wireless. They usually still have some type of cord, either between the earbuds or around the neck. And tbh, they are an unnecessary step in your journey to audio freedom.
The biggest benefit of 'True Wireless' over 'Wireless' is absolute freedom. What you need is to be free of the cord! Bluetooth tech has progressed further and faster than ever before, allowing wireless tech like the AirTaps to maintain high-quality output over greater distances. The AirTaps allow up to 10 meters/33 feet operating distance, giving the flexibility to move around where you need to without taking away from the performance.
Why Use Wireless Headphones?
Seriously, The greatest benefit of wireless anything is being wireless. No tangles, no yanking, no extra weight. You can have ear hooks if you really want to. However, the reason the AirTaps are so good is because of their fit. They are snug and flexible without interfering with anything else around your head, like glasses. The AirTaps are suitable for exercise, out-and-about walking, doing housework—all the usual mobile stuff. You won't need the ear hooks but if you want them, they are there.
The AirTaps come with a super convenient charging case, too—it's a very slim case with none of the bulk we usually see in these styles. The only time you need to plug in the cord is to recharge the case, So, of course, the next questions is: how long is the battery life? Nobody wants to be constantly recharging the case when we all want is to be cord-free.
And bonus: you can get almost four hours of playtime out of the AirTaps before you need to recharge. A full re-charge in the carry case takes about 90 minutes, and you're ready to go again!
If the reason you were holding out on buying True Wireless earbuds is because of the price, then stop waiting. The AirTaps Wireless Bluetooth Earbuds are everything you want in True Wireless headphones without having to sell your soul (unless you are into that sort of thing…) Currently priced at $36.99 for a single set (or $69.99 for two), this is the best opportunity yet to give them a try.