Teaching you the art of doing things in a way that improves efficiency and negates injury with the proper tools.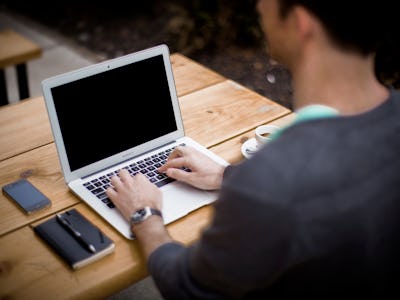 Unsplash / Alejandro Escamilla
We spend more time at our desks staring at a screen than ever before. Is part of that because there used to not be screens to stare at? Maybe, but that does not invalidate my point. With the new technology we have a duty to ourselves to be safe. We want to make sure that we are setting ourselves up to be able to play computer games, search Inverse.com articles and do spreadsheets at work until we are 100. Where can we start? Our work stations. Below you will find the best tools to maintain that gamer bod for decades to come.
1. Logitech MX Vertical Advanced Ergonomic Mouse
This looks like a space age ergonomical masterpiece. This mouse is Wireless via Bluetooth and includes the USB receiver. There is a scroller, a textured thumb area, and it contain a high precision sensor. If you are going to have a sensor, it better be with precision is our motto. There may be cheaper models available, but we can't get over how beautiful this one is. It contains a rechargeable batter that stays powered for 4 months. 1 minute of charge will keep you working for 3 hours.
2. Microsoft Sculpt Ergonomic Keyboard for Business
This black ergonomic keyboard has the split keyset design that can help you to position yourself in the most comfortable alignment. There is a domed angle that gives your wrists a nice break from doing all the work to hit the flat keys. The cushioned palm rest gives a nice pillowy support for a neutral wrist elevation. Our favorite part is the detached number keypad that can be moved around to suit your needs.
3. Seville Classis Airlift Gas Spring Corner Cubicle Adjustable Standing Desk Workstation
The standing desk is a must if you are going to get serious about your health and comfort. This particular model is Walnut. It rises or lowers to work with your needs. It's a nice corner unit and will fit nicely at the office or even in your home. The keyboard tray allows you to hide the keyboard to make use of the desktop for other various activities. Basically we are saying you'll have so much more room for activities.
4. Sleekform Ergonomic Kneeling Chair for Office
We thought this chair looked pretty neat to try out. It's a black kneeling bench. It's a unique turn on the options now available to sit while using the computer. The angle for the bench is adjustable to allow you the ultimate control of your sitting destiny.
5. Royal Anti-Fatigue Comfort Mat - 20 in x 39 in x 3/4 in - Ergonomic Multi Surface
Ergonomics is not all chairs and desk sitting. You can also make some changes to your kitchen or bathroom to bring greater comfort to those areas. This Anti-Fatigue mat comes in different colors to match whatever room of your house or office. This will help with your feet from becoming overly tired.
6. Topo by Ergodriven | The Not-Flat Standing Desk Anti-Fatigue Mat with Calculated Terrain
We found this mat to be an interesting addition to the standing desk we mentioned before. This mat has different textures or terrain to stand on depending on your feet position. This means that you can add some variety to your standing posture.
7. Dream Memory Foam Cervical Contour Pillow - Ergonomic Neck Pillow with Orthopedic Design
We've said it before and we'll say it again: It's really not just about your desk. Increase comfort and efficiency in every aspect you can. This cervical contour pillow will help to make sure your neck is comfortable and you sleep flawlessly. Unless you sleep with a snorer and then we can't help you with that.
8. Adjustable Bed Wedge Pillow Set with Memory Foam
We couldn't really pass up this bed wedge pillow set. It has everything we need to have a relaxing weekend in bed or a kick butt fort model. The memory foam will have you resting in comfort and the tan color will be a neutral accent to almost any color scheme.
9. Travelrest - The Ultimate InflatableTravel Pillow/Neck Pillow
Inflatable travel pillow? Don't mind if I do. This is a must for long road trips. The ones where your head usually ends up bobbing forward and you drool on the front of your jeans. Thus causing everyone to think you wet your pants when you didn't. No, we don't have personal experience with that. This pillow will have you resting easy and not drooling.
10. Betron BS10 Earphones Headphones, Powerful Bass Driven Sound
Ear buds are a tricky business. If you have the right ones, they are the should feel like nothing is in your ears. You should forget that the music is only funneling into your brain and talk loudly to your friends. We feel like these might be the ones for you to finally feel comfortable. They are all about the bass- sorry, we had.