Why The Offspring is Worth Your $35 Million
Don't underestimate pop-punk royalty.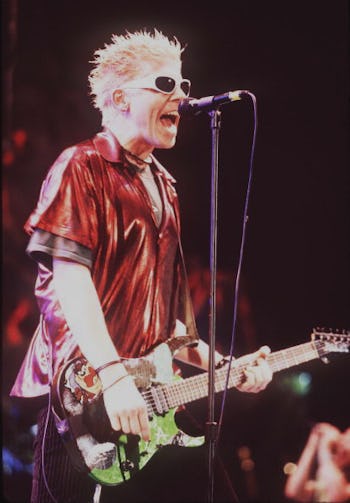 Maybe you heard murmurings, music lovers, but seminal pop-punk chameleons The Offspring are selling the vast majority of their recorded output and their publishing rights. The bids are starting at between 30 and 35 million. Why? Are The Offspring, as an offspring.com forum-goer speculates, just trying to "cash out" and get an early retirement popping off in Hilton Head? To much of the rest of the world, the question might be: Who would pay all this money to grab the recordings of those guys who did "Pretty Fly (For a White Guy)"?
I would answer your latter question with a question: Are you kidding me? This could only reasonably be asked by clowns not tuned into alternative rock radio in the mid-to-late-1990s: those who came to The Offspring's work purely through Daly's classic TRL run and the Woodstock 99 pay-per-view live stream. The Offspring's catalogue is actually extensive, complex, and still extremely lucrative. At their peak, they scored four smash albums, and had countless charting singles. Their formative work endures for a generous portion of the pop punk-reverent community and beyond.
No shit, I saw Steely Dan a couple of weeks ago (that's a whole other story) and waiting in front of me in line was a cat with a newish-looking Offspring tour T-shirt. He's probably the kind of guy who hits any odd New Jersey amphitheater show if he's got a free Saturday night, but these stadium tour shirts usually go for $40 at the lowest. You think any old schlub is going to shell out for a band they don't bleed for? He didn't have anything like Bedhead-gelled frosted-tips or JNCOs on; this was a modern, diplomatic, and jovial Offspring fan, short, workplace-friendly 'do, normal-person watch, well-shaved, maybe 30 years old.
My heart went out to him – it felt like just another testament to the fact that there is more than meets the untrained eye to this band. I mean, there is to almost everything in life, but the Offspring were genre-bending freethinkers, who refused to rein in their creativity, and ultimately this M.O. is what helped them skyrocket to the upper echelons of pop stardom.
"It ain't no joke," as Smash Mouth once said: the Offspring has been around for over thirty years now, starting out at the time when pop-punk was a newish concept, rapidly evolving, and not associated with the likes of Blink-182 and the Alkaline Trio. The Smiths were still together, the Berlin Wall was still up, Return of the Jedi was still in select theaters, and somewhere in the OC, Dexter Holland and bassist Greg Kriesel were trying to get together a band called Manic Subsidal in their garage. By 1988, they had an indie deal, and in 1989 a self-titled, melodic but sludgy Offspring record materialized. It's sharp pop-punk, but veers into Misfits — rather than Descendants — territory with pockets of grotesque imagery.
After another label change to the more high-profile Epitaph Records, and some touring with '90s-pop-punk-craze forebearers like NOFX and Pennywise, the first phase of the Offspring's career culminated with the release of Smash in 1994. You should feel like a sucker if you are not familiar with this album and its formidable reputation. It still holds the record for being the highest-selling independent release of all time, cracking the top five on the Billboard albums charts and subsequently going platinum. Are you going to pretend you didn't rock with "Come Out and Play" (a.k.a. "You gotta keep 'em separated?") on the FM? And that was only one of three charting singles. The album has such a devout following that the band toured playing the record in 2014.
The Offspring attained full crossover status by integrating more overt parody and genre hopping into their music, appropriating bits of rap-rock, reggae, Latin music, and metal. By the time of 1998's "Americana" and its polarizing mega-hit "Pretty Fly (For a White Guy)," there was no denying the Offspring's oddball potency. They could do no wrong. They occupied their own lane, drew fans from many different corners of the music spectrum, and sharpened their unique self-image in their zany and eye-catching music videos. The multi-platinum sales of "Americana" — also featuring their answer to "Ob-La-Di, Ob-La-Da," "Why Don't You Get a Job?" — were the band's spectacular victory lap. Summer anthems fell from them left and right like crabapples.
And look, there were four albums that charted in the top 15 following that, the last one being 2012's little-promoted Days Go By. Nowadays, though the group is ostensibly working on a new album, Dexter is in the late stages of completing an oncology-related Ph.D and studying the HIV virus. But the Offspring duffel still accrues, on average, a full $3.1 million annually. If you, reader, had the stacks, certainly it would be a worthwhile investment. Chances are Sony isn't going to let that ol' reliable source of income get away from them any time soon, so if you don't want them to buy it back, you better empty those Swiss accounts on the double. Then every time KROQ spins "Original Prankster," you'll get a chunk. Stay woke.