7 Great Tech Finds for Under $75 Dollars
Get your tech fix here on the cheap(ish).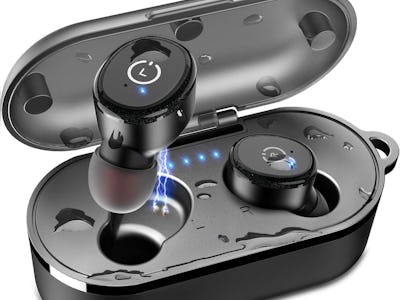 Amazon
Looking to for some new tech but not looking to break the bank in the process? You've come to the right place, mate. From headphones, streaming devices, and portable chargers, here are 7 (+ 1) great tech finds on Amazon for under $75.
Echo Dot + TP-Link Smart Plug Combo: $77 (Sale: $65)
Nailing down the foundations of a smart home or apartment does not have to be an expensive venture. You also don't need to start with a fancy schmancy lighting system that costs around $150 to pass go. If you're looking to start small, this is the combo for you.
The 3rd-generation Echo Dot is the cheapest way to jump into Amazon's smart assistant world, and the addition of a TP-Link smart plug means you'll be able to tell Alexa to control the plug with just your voice. (Warning: once you get a taste of voice-controlled power, you'll want more and more.)
Chromecast Ultra
Chromecast doesn't just deserve a spot on this list because it's one of the easiest ways to make a dumb TV smarter without having to learn an entirely new smart TV UI. This much is true but there are other options out here that technically do even more than Google's own device. The "Ultra" part of the Chromecast is its ability to stream 4K content, but what ultimately allowed the years-old streaming puck to make the list is the search giant's upcoming video game streaming service, Stadia.
When announced, Google demoed a playable game being streamed to a TV in high-quality graphics and low latency with nothing but a Chromecast Ultra. Stadia will breathe new life into the streaming device and for $70, it beats any gaming console pricing.
Bonus: If you're uninterested in the gaming aspect and really just looking to smarten up a dumb TV, you may want to look into the Amazon Fire Stick 4K. It's only $50!
Amazon Echo 2nd Generation (Refurbished) $80 (Sale: $70)
Sure, the idea of purchasing something refurbished can be a scary one. That said, if you're interested in purchasing a smart speaker like the Amazon Echo, spending $100 on it can seem like a bitter pill to swallow. Sure, you can get the (much) cheaper Echo Dot, keep the functionality and lose the sound quality, but if you're hellbent on holding onto both while not dropping a bill on one, this is the deal for you.
Anker PowerCore 26800 Portable Charger: $65
Sure, you can easily spend under $30 on a decent portable charger for your smartphone. That said, those will likely charge your devices slowly and only have enough power inside to charge them one or two times. The Anker PowerCore 26800 portable charger basically outdoes everything and packs a serious punch of portable power.
Shipping with 26800 mAh, this brick can charge an average smartphone about 8 times without having to power up again. The PowerCore will charge your devices faster with a higher port output than a standard portable charger. Speaking of ports, you're treated to three USB 3.0 ports so you can charge multiple devices at once.
SanDisk Ultra 400GB microSD Card: $72
Whether you're looking to expand storage on your phone or your laptop, the easiest way to do so is via a SD or MicroSD card. What's even better is the fact that they're essentially so commonplace today that they're not nearly as expensive as they once were!
SanDisk makes solid Micro SD cards and it's class 10, 400GB option for around $72 is basically a steal.
Tile Mate with Replaceable Battery - 4 pack
If you find yourself constantly losing keys, your wallet, or other random things, the Tile is for you. Sure, it's not the most exciting thing in the world, but if you lose things often, then invest in these to save yourself some time in the future.
The Tile Mate is very simple. Simply add one of the Tiles to an object of your choosing and you can make it ring via the app on your smartphone. If you can't find your smartphone, you can double tap on one of the Tile Mate rings and it will automatically begin ringing your phone, even if it's on silent mode. It's a Win Win.
TOZO T10 TWS Wireless Earbuds
In a world trying to compete with the Apple Airpods, it's hard for a small name to make a splash unless it, well, really makes a splash. The Tozo T10 Wireless Bluetooth headphones offer up features that both meet and exceed Apple's latest Airpods.
The Tozo T10 earbuds take advantage of the latest Bluetooth 5.0 standard, Hi-Fi Stereo sound quality, a 3.5 hour charge on a single charge and an additional 9 hours of battery within the charging case. The case itself can be charged wirelessly, which is a huge bonus. The earbuds also ship with IPX8 Waterproof rating, which is something that the Airpods can't even boast.
These earbuds offer Bluetooth 5.0, decent battery life, full waterproof IP rating AND wireless charging for its case. Now realize they are cheaper than the wireless charging case that Apple sells for the owners of the original Airpods and literally a quarter of the price of the brand new Airpods.