MySpace Loses 12 Years of Music, Underscoring the Work of Museum Archivists
What if the world's masterpieces were lost in a server migration?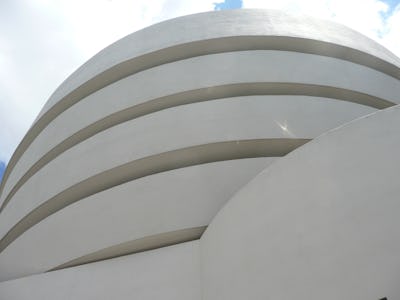 Flickr / angela n.
At 32, Heath Waterman has been posting music online for more than a decade. The New York-based musician uploads experimental, folk, and bluegrass songs to his Soundcloud where he has a modest following. The songs remind you a little bit of the band Bright Eyes, the emo-folk act that achieved fame in the mid-2000s.
Like most people who tried to kickstart their music career during the MySpace era, he tells Inverse he had at least three music-related pages on the social network. When Waterman tried and revisit all his old recordings a few years ago, he discovered that an entire era of his creative life was gone.
"I spent hours researching the issue and trying to find out if there was any solution," he says. "I was heartbroken. These were some of the first songs I ever recorded."
Waterman was hardly alone. A few months later, he says, MySpace officially announced that, in the midst of a "server migration process," any photos, videos or audio files uploaded between 2003 and 2015 had been lost.
It's now a familiar story, having been widely re-circulated this week after Andy Baio, a developer who helped start Kickstarter, posted a Reddit thread about the deletion on Twitter. According to his estimate, some 50 million songs from 14 million artists were lost in the migration.
Waterman says the deletion caught him by surprise.
"I always had a fear that maybe something would happen to the music saved on MySpace, but I never thought it would be deleted or totally inaccessible," Waterman says. "I thought, worst-case, I would have trouble accessing my old accounts."
It's easy to forget that MySpace's cultural influence once loomed large, but a generation of artists who came up in the early aughts credit the platform with helping them find an audience. Platforms fade, and with them so can the resolve to keep servers up and running. Baio this week said he was "deeply skeptical" that MySpace's deletion was an accident.
The loss of user-generated content is a problem that goes far beyond this latest MySpace disappearing: When Tumblr announced it would remove all of the platform's adult content, creators banded together to try and archive as much of the work as possible.
At the forefront of this battle, you'll find museums that have spent years and millions of dollars digitizing their work, both to preserve it and make it accessible.
Several preservationists and curators tell Inverse that, as the world feverishly updated from analogue to digital, institutions collected technology-reliant work without first considering how to indefinitely preserve their archives. The problem is acute for artists that work in digital mediums, whose work often uses or features outmoded technology.
Without careful intervention, entire generations of art work could continue to disappear. 
One of these museums is New York City's Guggenheim Museum, which since 1937 has amassed one of the most important collections of modern and contemporary art in the world. For each new "traditional" acquisition, Chief Conservator Lena Stringari's team takes photos and measurements, maybe makes a few repairs, and then the work, like a painting, is viewable. But when a digital piece comes in, even if it's as simple as an object with blinking lights, they can't just display it — they first have to figure out how to keep it running.
"At the outset, we need to have a program to keep it alive," Stringari tells Inverse. "Because if you wait, you might be faced with obsolescence pretty quickly, much quicker than a tangible sculpture or painting.
""We need to have a program to keep it alive."
At the Guggenheim, that program is called the Initiative for Conserving Computer-Based Art. Since conception, they've saved two internet-based works from the early 2000s, with a third on the horizon. There are a few other similar initiatives — The Museum of Modern Art has built a "digital vault" — but preserving a digital work takes time and resources, two things that few cultural institutions have.
"What I worry about are all the little independent nonprofits and artists who don't sell their work," said Stringari. "What is going to happen to all the artwork that doesn't end up in an institution?"
Ben Fino-Radin is the founder of Small Data Industries, a firm that teaches artists, collectors and institutions how to tackle digital art preservation. When you walk into his Brooklyn studio, the first thing you notice is just how much stuff it takes to save even one piece. Hundreds of spools of wires loop across the walls.
There's a "stabilization and recovery of born-digital media" workstation, a "PC gaming enclosure" that's over two feet tall and "Star-Wars-esque," per Fino-Radin's description. There's an Atari to test modified video games, and a wide-screen television where video installations run on an endless loop for days at a time, as Fino-Radin's team trawls for bugs in the code. It's in this studio that conservation tools specifically for restoring digital art, like a harmonica-sized device that copies and stores unique code, are built and customized.
Fino-Radin studied information science in graduate school, a safety net in case his career as a video artist didn't take off. While trying to make his own art, he became immersed in the theory of archival work.
"It just dawned on me that all of this art I've been making since I was an undergrad, and all of the art that I'd been studying and had been passionate about, that it of course falls apart," Fino-Radin told Inverse. He had never thought about that before.
A Point of No Return
A drawing will last as long as the paper does. But Fino-Radin says he's come to understand that there's a point of no return for many digital pieces, when their physical hardware, or maybe their code, might still exist, but the substance, the actual art, does not.
"People have come to us and said, 'Hey help us recover this thing' or 'Get this artwork installed' and we come to find, well, actually, it turns out, you don't have it. It's gone," said Fino-Radin.
When news of the MySpace migration loss began making the rounds this week, I emailed Fino-Radin to get his perspective. Had he heard of the loss? Did he see it as a harbinger, for other losses on other platforms?
"Yes, and yes," he wrote back. "Nothing new though…same old news."
Stringari, the Guggenheim conservator, hopes that others in the art world see her museum's initiative as a call to action. She and her team relish the opportunity to restore internet-based pieces, seeing it as a challenge. And she wants her peers to understand the urgency at play.
"You're going to miss a whole era. And an important era, where things moved from analog to digital," said Stringari. "I think it's extremely important that we preserve that."