Turn Your Smartphone Into an Old-Timey TV Because What Yes
You don't need it, but don't you?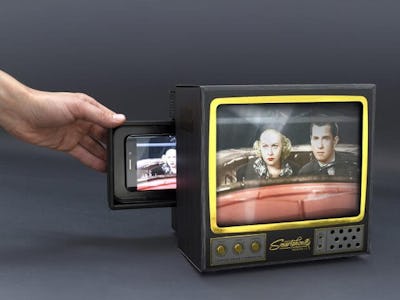 Huckberry
Sometimes some of the most mesmerizing things are also the most ridiculous. When it comes to technology accessories, we have umbilical cord iPhone chargers and phone cases that double up cigarette lighters or pepper sprayers. Our current favorite of the crop of odd accessories is Luckies Smart Phone Magnifier that instantly gives you a retro vibe.
The concept is simple enough. Place your phone in the holding tray while video is playing and the magnifier will instantly create an image that is 2x larger. That's not all, though. The design of the box is all done up in a retro TV box, which would make for a perfect Stranger Things viewing companion.
Since the concept is so simple, it's essentially compatible with any smartphone, given that they're all similarly shaped for the most part. No need to worry about whether it matters if you have an iPhone, Samsung Galaxy, or some random off-brand Android phone, you're covered. The best part? It's [under $20, making it an easy purchase for yourself as a gift, whether it's for a gag or not. The low pricing is also likely due to its build materials of cardboard, acrylic, and silicone. Because of this, we'd actually advise against Huckberry's use case of watching Netflix while in the bathtub. Then again, it's cheap, so you do you.
So whether you're a collector of odd and wonderful smartphone accessories or you just want to add a touch of retro to your room, don't miss out on this one!