Blockchain Network Behind Sophia Expands to End the Corporate Grip on A.I.
SingularityNET is working to bring tools like optical character recognition to a broader audience.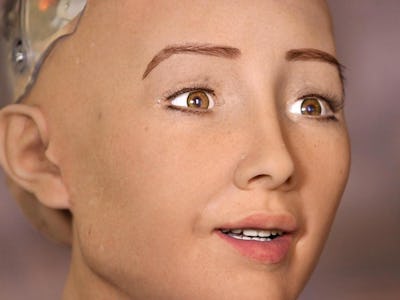 Hanson Robotics
SingularityNET, the artificial intelligence network powering the Sophia humanoid robot, has entered into partnerships with two major technology firms, the company announced Thursday. The deals mark a major breakthrough for the blockchain-based platform, which allows A.I. developers to share their creations for others to use.
"The vision of the foundation, SingularityNET, is to create benevolent decentralized A.I.," Arif Khan, chief marketing officer for the foundation, tells Inverse. "We are empowering developers around the world to participate in this new economy."
The beta marketplace, launched at the start of March, aims to up-end the Silicon Valley siloed structure of artificial intelligence. Instead of a giant firm developing its own systems and competing with others, SingularityNET will enable developers to create their own tools and sell access on a marketplace, so firms can take advantage of new developers' creations no matter where they are in the world.
"Ethiopia has a lot of really good mathematicians and talent, but they just don't have the infrastructure to support," Khan says. "When you look at emerging markets and countries that have struggled to accelerate into the first world, there is a lot of talent that does not necessarily get the opportunity to participate in the economy. So our hope is that our platform can serve as a launching pad."
The two agreements, unveiled at the Hong Kong-based Token2049 cryptocurrency event, could demonstrate this vision in action. The first is with Ping An Insurance, which ranks as the world's top insurance brand valued at $26.1 billion. The partnership will be focusing on potential artificial intelligence applications like optical character recognition, cross-validation and model training. The team is hopeful that SingularityNET's network could offer commercial benefits.
"The scale of Ping An provides considerable opportunities to showcase the benefits of AI application," Ben Goertzel, CEO at SingularityNET, said in a statement. "We are currently discussing how to integrate SingularityNET infrastructure with Ping An's IT infrastructure in order to analyse the different types of data available."
The second is with Nature 2.0, an ambitious project from distribution system operator Enexis Netbeheer that aims to use A.I. and blockchain to reshape society around abundance rather than scarcity. In the words of its funding article, the team aims to develop "potentially an upgrade to the cradle of civilization itself." The team aims to work with SingularityNET to help develop community workshops, joint hackathons, and technical discussions around SingularityNET's network.
"With our new collaboration with Enexis Netbeheer's Nature 2.0 initiative we will apply our unique decentralized A.I. framework and tools together with their capabilities to work toward affordable and sustainable energy for all," Goertzel said. "Unlike the corporate tech giants, SingularityNET has an explicit goal of applying and advancing A.I. for the good of all humanity, and this includes leveraging its decentralized A.I. network to optimize the world's AI infrastructure, not just for large corporations but for everyone."
It's a big first step, but Goertzel is already considering how this could change the world in the future. In September 2018, it announced a partnership with UNESCO's International Bureau of Education to teach kids about the emerging technologies of the future. In November 2018, it announced a n initiative working with the Maltese government to determine whether robots of the future will require a passport.
SingularityNET's network may help an insurance firm recognize characters on a page, but Goertzel predicts a human-level artificial intelligence could arrive in just 10 years' time. A form of artificial intelligence more freely accessible could help open up access to this new technology.