Robotic Lawn Mowers Get FCC Approval Despite Angry Astronauts
Radio waves still belong to the people.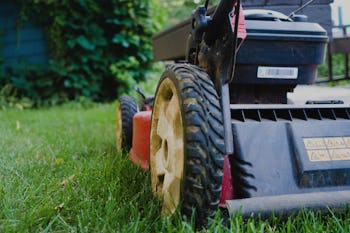 www.flickr.com/photos/tabor-roeder
Americans bent on zoomorphizing their autonomous vacuums are about to start brainstorming names for their new free-range lawnmowers. U.S. regulators have given iRobot, the company that manufactures the Roomba, the go-ahead to develop a model designed to do yard work. Robot lawn mowers have already been cutting hedgerows, thickets, shrubberies, and topiary for a decade in Europe, but Federal Communications Commission regulations had kept the technology from crossing the pond — much to the delight of astronomers concerned that radio signals from the machines could overlap with deep space monitoring frequencies.
The FCC restricted the company from spreading to the States because the bot functions by connecting wirelessly to signal beacons placed in your lawn that transmit low-power radio signals. A complaint by the National Radio Astronomy Observatory claimed the radio signals that transmit to the beacons would interfere with radio waves monitored by astronomers. Because the FCC prohibits unlicensed transmissions from "fixed outdoor infrastructure," the tech languished in bureaucratic limbo. But the National Radio Astronomy Observatory proposed a compromise in a report that would allow the tech to be used in certain areas and designated "exclusion zones" in which research would be prioritized above grass maintenance.
The Commission accepted a waiver from iRobot, agreeing that the design would be allowed if kept to specified height and signal strength restrictions within residential areas. Though the final report includes a claim that the NRAO "has greatly overestimated the interference potential of transmitters that are located less than two feet above the ground," a compromise has been reached.
The remaining question is what to call the robotic yard specialist. Our suggestion: United States Senator Chuck Grassley.