Darth Vibrator, Aquamoan… 7 of the Most Ridiculously Amazing Geeky Sex Toys
Yes, correct, you read all of those words right.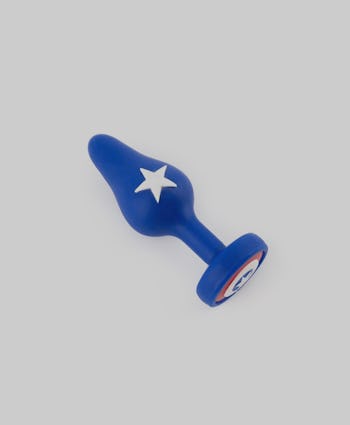 https://geekysextoys.com/product/captain-anal/
We never thought we'd be publishing a list of super-geeky sex toys, but then, we never knew that there would be so many frankly awesome options to choose among. The truth is, all of the toys listed below are both hilarious and, ahem, extremely effective. They're also kind of extremely hot. Like, "Now I wanna buy a wig and get down with some role play all weekend" levels of hot.
Basically: sorry mom, sorry dad, sorry college. You're welcome, everyone else.
Möan-lnir
If you have an especial love of Thor and his, um, very powerful hammer Mjölnir, we just found an extremely fun new way for you to get off. Fortunately, you're not intended to insert that gigantic hammer anywhere—just the 7-inch-long body-safe silicone handle. And not that we want to put any ideas into your head, but this toy would look especially excellent on cam, right?
Darth Vibrator
You don't need to communicate with midi-chlorians to harness the power of this Force. This exceptionally powerful wand, designed for strong, continuous stimulation, lets you choose among three speeds and thirty freaking patterns for exceptionally intense enjoyment.
Dickpool Bondage Kit
However Marvel feels about these products (we're gonna go out on a limb and guess "not excessively positively"), you absolutely know Wade and Vanessa would fully, deeply, loudly approve of this Deadpool-themed bondage set. This fully-loaded kit comes with ev-er-y-thing you could possibly need for a weekend full of "your-crazy-matches-my-crazy" style of love: You get a silicone ball gag, blindfold, wrist cuffs, flogger, ankle cuffs, collar and lead, hogtie, and one of those sweet little tickle stick feather thing.
TardAss Paddle
If you're a very naughty nerd, this paddle from the Doctor Screw (yup) collection is going to soon become your favorite companion—whether you'd rather roleplay as Rose Tyler or Captain Jack Harkness (or the Doctor himself, of course).
Agent Getsmeoff Masturbator
If either Black Widow or Scarlett Johansson (or if you're like us, both) have been taking over your fantasies for the past, oh, decade or so, then this extremely realistic, vibrating fleshlight-style sleeve is an ideal toy. With three speeds and nine patterns, this is just a high-quality option despite the branding, and besides, it's fun for play solo or with a partner—as Black Widow herself says, "He's also a huge dork. Chicks dig that!"
AquaMoan Silicone Dildo
Look, Jason Momoa is a consummate babe, so no one's going to question your desire to get freaky with this scaly-textured, G-spot-curved silicone dildo. And it's perfect for use in the bath or a pool (with some silicone-based lube, natch), since it's built with a strong suction cup that can attach to nearly any surface.
Captain Anal
There's something delightfully twisted about using Marvel's most unquestionably pure superhero in such a dirty, dirty way. Made of body-safe silicone, with 3.5 inches of insertable length, this butt plug inspires anal play for all. Train yourself well, and soon enough, you'll be quoting Cap himself: "I can do this all day."