FKA Twigs'  'M3LL155X' EP is Required Listening  
The British singer/songwriter returns with a mesmerizing five-song set and long-form video.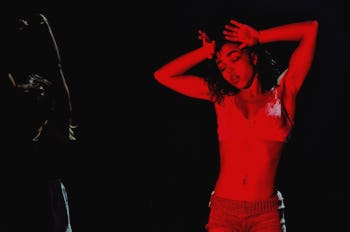 People often struggle to choose a lens through which to view British experimental singer/songwriter FKA Twigs' music, and lenses sometimes make listeners feel more comfortable. Often, she's stamped with the unfortunate and imprecise "bedroom R&B" tag, which at one point has been used to characterize everyone from veritable pop stars like Tinashe to more peripheral, like Jeremih/R. Kelly worshipper How to Dress Well. Basically, the blanket term denotes R&B-influenced music with avant- touches, and aims to separate it from more mainstream pop styles. Under this lens, Twigs' music might seem somewhat lacking — or at least, undeveloped — from a songwriting perspective. Her melodies might feel aimless and unfulfilling; her choruses too ineffectual. Her voice, also, lacks the warmth of her contemporaries and predecessors (the common, misapplied reference point is Aaliyah).
Others would argue that there is a sharp appeal and distinctive mood created by her spacey composition: Twigs is a very gifted architect of sound. She electronically manipulates all of the sounds in a given song, disrupting everything from her fragile vocal tracks to her glacial drum loops to her to her ripples of samples and synthesizer chords. The result is an engrossing sonic environment, in which sounds come careening in from every corner of the stereo image. Sometimes it feels more fitting to characterize Twigs as an avant-garde electronic artist, rather than some sort of nu-R&B semi-pop star.
In fact, she's more than capable of being both of these things at once and more. With the release of her engaging and shapeshifting new EP, M3LL155X, (pronounced "Melissa") and its accompanying visuals, she's pushing to be regarded as a serious conceptual artist. With her stylized, often hip-hop-influenced choreography, and surrealistic, obliquely sexual imagery, the sixteen-minute video (an accompaniment for most of the EP) is part late-90s MTV and grotesque Matthew Barney passion play. Most of it takes place with Twigs and associates (some of whom seem to have borrowed their fashion sense from The Fifth Element) emerging out of enveloping darkness and cavorting on a white dais.
The music, meanwhile, features some of Twigs' strongest, most extroverted writing to date, and her vocal performances are full-throated and commanding — especially on opener "figure 8." The sharpest pop moment comes during "in time," as do the best dance moves. It will take a bit of time — Twigs' music tends to grow on you — but the level of quality here is definitely comparable to last year's celebrated LP1.