The Best Wireless Headphones on Amazon
Love your music? You need these upgrades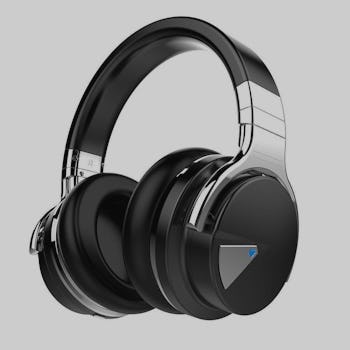 x
In the market for headphones? Everybody is. Whether you're sick of you AirPods or desperately trying to make the new iPhone work with your old earbuds, there has never been a better time to upgrade to wireless. The options are practically endless for easy music navigation and Bluetooth coordination, so you can finally give up on untangling those earbuds.
Naturally, every consumer has different needs, so we gathered a list of the best wireless headphones for whatever your mission is. So whether you will be kickboxing or kicking back, take a look at some of the hottest wireless headphones available on Amazon.
For Tough Workouts:
Mpow Flame Bluetooth Headphones Waterproof IPX7
One look at the Mpow Flame Headphones and it's obvious why these are among the top-rated wireless headphones. Designed for a multitude of exercises (think: running, hiking, yoga, weight training), Mpow Flames are sweat-resistant and ergonomically designed for a comfy yet stable fit in the ear. Enjoy Bluetooth 4.1 and it's tuned driver that delivers a rich bass lasing from 7-9 hours.
LETSCOM Bluetooth Headphones IPX7 Waterproof, Wireless Sport Earphones
There's a lot to love about the LETSCOM Bluetooth Sport headphones; a nano-coating waterproof design, a multi-functional button for music and sound control, comfortable ear hook architecture for long-lasting wear, and short-time charge combined with long playtime make LETSCOM headphones the full package. The best feature? It's pink insulation. Functional and cute.
Dudios Bluetooth Wireless Earbuds Zeus Leisure IPX5 Sweatproof Sports Headphones
The name of the almighty god Zeus is in the product title so it's gotta be good, right? Dudious Zeus Leisure headphones are capable of relaxing and so much more. Nano-coating along the earbud protects from rain and sweat, and come with interchangeable ear tips for guaranteed security. Armed with CVC 6.0 noise-canceling technology, enjoy reduced external sound while running or taking a phone call. Top it off with the dependable Bluetooth 4.1 feature and there's nothing these headphones can't do.
For Everyday Lux
Sony Noise Cancelling Headphones WH1000XM3
You know what's cooler than headphones? Voice-activated headphones. Introducing the Sony Noise Cancelling Headphones! Equipt with the latest active noise-canceling (ANC) technology, these wireless headphones let you control music tracks and volume either manually or vocally when you enable Alexa from a hands-free listening experience. Take phone calls with HiRes audio wherever you are, and tuck them back into their travel case for easy storage.
Mpow 059 Bluetooth Headphones Over Ear
An incredible sound for a pair of headphones that will cost you just under $40. These headphones have noise isolating technology which means they'll minimize the amount of outside noise you hear but it will be done without draining the battery. These headphones also come with a wired attachment so if you do run out of battery you can still use your headphones by plugging in.
Bang & Olufsen Beoplay H9i Wireless Bluetooth Over-Ear Headphones
Take wireless technology, but make it fashion. The Bang & Olufsen Beoplay H9i headphones work with sweats and street style, so you can enjoy listening to your favorite songs in any setting. You'll also love the hybrid ANC that eliminates background noise, while touch device controls let you navigate your playlists with ease. The Bang & Olufsen headphones also come with two microphones for clear voice control. These beauties also have brains; a proximity sensor tells your device to stop playing music when headphones are removed, and even resumes music when placed back on.
For Advanced Chilling
It's easy to kick back and relax with Picun Wireless Headphones. The speakers are fitted with memory-protein cushions with an earmuff-like fit and adjustable, lightweight headband. Despite these comfy features, the sound quality is not compromised with dual 40mm driver units and Bluetooth 4.1 technology. Finally, a built-in microphone is included for all your hands-free needs, so you can relax and answer (or ignore) incoming calls comfortably.
COWIN E7 Active Noise Cancelling Headphones Bluetooth Headphones
Made especially for traveling, the COWIN E7's main feature is noise reduction. Imagine: walking onto a plane or in a crowd and hearing high-quality music. Between the custom 40mm large-aperture drivers embedded in protein earpads makes them a reliable choice every time. With up to 30 hours of playtime per charge in Bluetooth mode, these are the epitome of wireless comfort.
Alteng Hi-Fi 30H Wireless Headphones
Need a headphone to last all day? Alteng has your back. With the HiFi 30H wireless and a memory protein ear cushion and, of course, easy Bluetooth setup, you'll be listening to tracks and taking calls wirelessly for up to 20 hours. The Alteng set is lightweight yet durable, so it's made for easy storage and packing. But, let's be real, you won't be taking these off.