From Bacon-Flavored Sprays to Peanut Butter Treats, CBD Products Are Going to the Dogs
More and more pet owners are using ZenPup CBD products to treat their four-legged friends.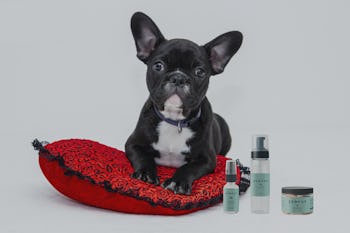 ZenPup.com
Over the last several years, the market for cannabidiol, or CBD, has absolutely exploded. Worth about $2 billion in 2018, some forecasts predict the industry could be worth as much as $22 billion by 2022. And it's not hard to understand why. While the scientific community is still studying its merits, millions of people are already using CBD to treat anxiety, chronic pain, inflammation, and various other issues. And their not just using it on themselves. More and more pet owners putting CBD to work on treating anxiety, chronic pain, and inflammation in their dogs.
That may sound crazy at first, but it actually makes a lot of sense.
Anxiety is a huge problem for man's best friend. It can lead to aggression, destructive behavior, excessive barking, depression, urinating in the house, and numerous other undesirable behaviors. Beyond anxiety, many dogs start to experience things like neuropathic pain and arthritis as they get older, while some breeds have skin sensitivities that lead to excessive itching. And according to the American Kennel Club, just as with humans, there is anecdotal evidence to suggest CBD can provide dogs relief from these symptoms.
Of course, it goes without saying that you should always consult your vet before giving your dog any kind of supplement, including CBD. However, if your vet gives you the okay to try CBD, you really should to take a look at ZenPup. Their line of high-quality broad spectrum CBD products is designed to help your dog stay happy and healthy, providing all-natural alternative to costly medications, and doing so with minimal side effects. From sprays, to treats, to shampoos, ZenPup has products designed to meet the different needs of every pooch.
You can find a rundown of their products below.
Happy, ZenPup's flagship calming supplement, is designed to soothe anxiety and help with joint mobility, improving your pooch's all-around well-being. Each 30ml bottle contains 250mg of broad spectrum CBD in the form of THC-free phytocannabinoid rich (PCR) hemp oil, with each individual spray containing 5mg of CBD. You can apply the spray either to your dog's food, or directly into its mouth. And no, you won't have to worry about your dog rejecting it, because this stuff is bacon flavored.
If you need to give your dog a dose of CBD on the go, or if you just want your fur baby to feel spoiled, these ZenPup Goodies peanut butter flavored treats contain the same blend of phytocannabinoid rich (PCR) hemp oil found in the ZenPup calming supplement. Each jar contains 170g of peanut buttery goodness—made with all natural non-GMO ingredients right here in the USA—and each individual treat contains 5mg of CBD with zero THC.
Last but not lease, for dogs suffering from itchy skin and "hot spots," ZenPup also offers a revolutionary dry CBD shampoo. As the name suggests, ZenPup Clean is a dry shampoo that works completely without water. You simply pump the foam into your hands, rub it in like you would regular shampoo, and then wipe clean with a towel. That right there is pretty amazing. But of course the best part about this product is that each 7.1oz bottle has 300mg of broad-spectrum CBD designed to soothe your dog's irritated skin.