Plans Approved to Build Massive Seawall in NYC for "Once in 300 Year" Storm
But what happens when every 300 years becomes every ten?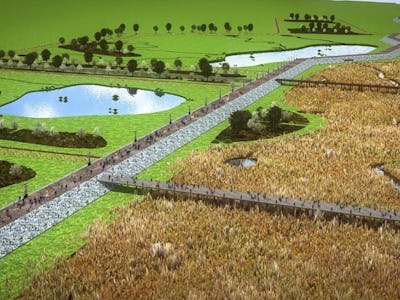 https://www.governor.ny.gov/news/governor-cuomo-announces-151-million-multi-use-elevated-promenade-strengthen-staten-island
In environmental apocalypse movies, it's usually the storm surge that gets 'ya. The sudden, catastrophic wall of water ripping through a CGI urban cityscape is inarguably a hallmark of the genre. It's scary because it's plausible: Two thirds of so-called "megacities" — a term which typically describes cities of 10 million people or more — were located near the ocean, according to U.N data from 2009.
Fortunately, some of the world's largest cities like New York are trying to get ahead of the problem by erecting huge-ass-seawalls. While it wasn't exactly "environmental apocalypse" status, the city has experienced the threats posed by rising sea levels first-hand: In 2012, a massive storm surge leveled nearly a third of homes in one of the city's five boroughs, causing nearly $256 million in damage.
Despite Hurricane Sandy's immense impact, the city has been slow to adopt protective measures that would safeguard residents from future storm-related disasters. A 2018 report that evaluated storm preparation ranked New York 12th out of 16 Eastern coastal states, behind both New Jersey and Connecticut. But on Tuesday, New York finally secured funding to begin addressing that though the Staten Island Levee Project, a $615 million seawall that will be built to withstand a "300 year storm."
How Seawalls Work
The new project is set to run 5.3 miles along Staten Island's Eastern shore. It's actually not technically a "wall," and it will eventually be composed of a system of interconnected levees, berms, and seawalls, designed to combat both storm surges and rising sea levels.
'"It is critical that we invest in the resiliency of our city in the face of climate change," said Mayor Bill de Blasio in the seawall's official press release. "This is a huge win for the people of Staten Island, who will be better protected from future storms."
A combination of city and state dollars, along with $400 million in federal funds, have reportedly been locked in, enough to guarantee a 2022 completion date. Though this is by far the largest (and essentially, the only) hurricane-protection project that New York has undertaken, seawalls have become an increasingly common sight in low, coastal communities.
The Netherlands, much of which sits at or below sea level, has a billion dollar seawall running along much of its coast. Following a devastating 2011 tsunami, Japan has built a series of five-story-tall seawalls. And in the U.S., a number of states including Texas, Florida and Georgia have all erected their own seawall constructions.
But as climate change proceeds at an increasingly destructive pace, the more traditional ways of measuring storm severity — once every 100 years, every 300 years, every 500, etc. — and the ways in which those designations inform our seawall design could quickly become outdated. Hurricane Sandy, after all, was a once in a century storm. The Staten Island seawall is built for a once-in-300 year storm. But a report released last year by the Regional Plan Association found that those "every 500 years" floods New York has been slow to protect themselves against? They could start happening once every five.