The Top Streaming Cameras for Every Price Point
A streaming camera should only break the bank if you want it to.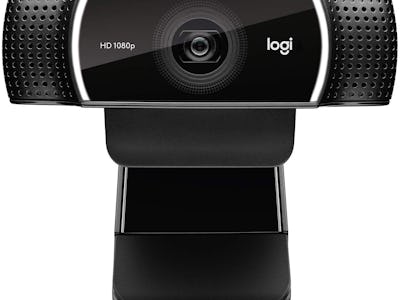 Amazon
A sticking point for any decent live stream is a good presentation and the right camera can go a long way to help achieve just this. While it would be easy to assume that the camera can remain as an afterthought, given the captured video stream is usually designated to a small corner of a stream, but you'd be wrong. Quality is important. Of course, having a quality camera doesn't automatically require you to drop $500 on equipment, but the varying options at your disposal can make it hard to make a decision. Below, we've outlined 5 excellent streaming cameras for every budget and some honorable mentions to boot.
Logitech Brio
If you're feeling spendy, or are just trying to make the investment of a quality camera worthwhile for the long term, the Logitech Brio may be what you're looking for. This is capable of recording in 4K resolution and streaming in 1080p @ 60FPS, which is an impressive feat for a webcam. There are other 4K options out there, and while increasing the features and functionality of a product can, in turn, increase its use cases, they will fall into the "overkill" category, no matter how you market them.
Positioned as more of a professional conferencing tool than anything else, the Brio ships with all the bells and whistles you'll find on most of every other camera on this list, but with additional features like an infrared sensor for Windows Hello and compatibility with business softwares from Skype for Business, Cisco Jabber and more. How does this help your stream? It doesn't, but it certainly extends its functionality, providing more value to the right buyer.
Honorable mention: If money is no object, then you'll find a more robust feature set and flexibility with the Mevo Plus, but it would be the embodiment of the term overkill if you're just looking for a webcam to stream games with at over $400.
Razer Kiyo
The Razer Kiyo can allow you to skip a piece of extra equipment: a dedicated lighting setup. This is thanks to the built-in ring light that surrounds the camera lens. This is a camera that was designed with streaming in mind, and attempts to bring more to the table that what most other streaming cameras do.
The Kiyo supports both 720P @ 60FPS and 1080P @ 30FPS, which should be serviceable for most streamers. The light itself shines at 5600K, which is a daylight-balanced white, and the brightness can be instantly adjusted by simply turning the rotating bezel.
Again, since this was designed for streamers, you shouldn't be surprised that the Kiyo is fully supported by popular platforms like OBS and XSplit.
Logitech C922x Pro
If you're looking a multiple "Best webcam" articles online, you will have already discovered that the Logitech C922(x) Pro Stream Webcam usually sits at the very top of the list, and for good reason. It's a solid, well-rounded camera that gets the job done and then some.
Offerings 1080p @ 30FPS and 720p @ 60FPS, the C922x provides a crisp image and impressive low-light capabilities. It also comes with 3 months free of X-Split license.
It's solid basic featureset notwithstanding, this camera's claim to fame is its background removal feature, eliminating the need for a green screen. Results can vary and the manual green screen method will basically always looks better, but given that your image will often backed into a corner, it may fit the bill for you.
Logitech C920
If you want to spend a little less than the C922x Pro above without sacrificing too many features, the Logitech C920 should suit you well. Compared to some of the other cameras on this list, it may seem a bit "no frills" but that's because it's an older camera. Still, all one needs to do is take a look at the near-perfect Amazon rating and over 10,000 reviews.
Spec-wise, it's a pretty standard affair. The C920 can record in both 720P and 1080P HD at 30 frames per second. If you were looking for 60FPS on either resolution, you'll need to look elsewhere. That said, this shouldn't bother a beginner, but we'd caution you to look at all of your options.
Either way, this is a camera you at least know is going to provide a reliable experience, works as advertised, and works very well at that.
Audsom Full HD
If you were to strip all of the bells and whistles from the aforementioned cameras, we wouldn't blame you if you expected nothing better than a laptop's built-in webcam. Luckily, Ausdom is responsible for very capable, no-frills streaming cameras that aren't going to break the bank.
For its price range, this little guy brings you 1080p HD @30FPS streaming capabilities, which is the sweet spot you should be looking for within any camera you buy for such purposes. While you won't find a laundry list of other features, you will be treated to a built-in noise reduction microphone and automatic low light correction.
Honorable Mention: If you can live with the fact that you're buying a 720p camera in a minimum 1080p world (It's 2019..), then the Microsoft LifeCam 3000 should be more than serviceable for your streaming needs.