15 Awesome MCU Gifts to Buy for Under $20
Celebrate a decade of the Marvel Cinematic Universe with these steals for under $20.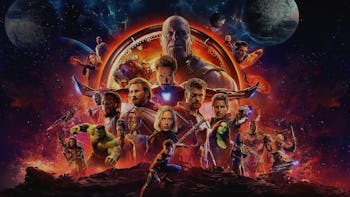 SciFi Empire
The Marvel Cinematic Universe celebrated its 10th birthday in 2018 with its most ambitious film to date, Infinity War. In the decade preceding the release of that enormously successful film, Marvel Studios built a universe of intertwined stories, larger-than-life characters, and world-threatening villains that have wowed audiences in theaters across the globe.
This has also led to the release of some wicked cool collectibles inspired by the film series, from action figures to Pop! Vinyls, special edition books, and statues. There's a treasure trove of Iron Man, Captain America, Black Panther, and Thor-themed merchandise for consumers to eat up—and for tricksters like Loki and looking for something to celebrate your fandom of the charismatic baddie, there are awesome collectibles out there for you, too.
Even better? There are enough great options priced under $20 to make even the most budget-first fan happy. Amazon is home to dozens of items in that price range that can be yours with the snap of your fingers.
Right, Thanos?
In preparation for the upcoming release of Captain Marvel, and with Avengers: Endgame just a few months away, stock up on these outstanding Marvel gifts available for under two Andy Jacksons.
Excelsior!
Captain America's shield is one of the most iconic symbols in all of pop culture.
Wear it proudly with this 3D-embroidered hat on the baseball diamond, while working out at the gym, or when you're hanging with your friends—and celebrate the loyalty, strength and honor of America's greatest hero.
What happens when our heroes fight each other?
It is a question answered in the 2016 Marvel Studios film Captain America: Civil War. When Captain America and Iron Man find themselves on different sides of a new bill to regulate superheroes known as the Sokovia Accords, they assemble their own teams and release their frustration on each other…all while playing right into the hands of a new, manipulative terrorist.
This Blu-Ray will give you a crystal clear viewing experience so you can catch all of the little Easter eggs, in-jokes, and amazing effects of the film.
The Marvel Legends series is among the best affordable action figures on the market, thanks to the extraordinary detail that goes into each character.
Captain Marvel hits theaters this March, and now, you can add Carol Danvers and her sidekick Goose to your collection. It's the perfect gift to celebrate what could be a history-changing, female-driven film for the MCU.
Compiled by acclaimed rapper Kendrick Lamar, the Black Panther soundtrack features some of rap's best, including Jay Rock, Khalid, 2 Chainz, and Travis Scott, as well as R&B artists SZA, Jorja Smith, and The Weeknd.
Nominated for a Grammy for Album of the Year—a rarity for soundtracks and compilations—this is a must-own if you are a fan of the film (or the spectacular Lamar).
Especially at $11.99.
Hulk…SMASH!
Now your kiddo can too, with these Marvel Avengers Gamma Grip Hulk Fists. The best part? They are soft enough to prevent injury when your little Hulk is running around, unleashing rage on villains…or best friends.
Black Panther became the first superhero movie ever nominated for a Best Picture Academy Award. Now you can celebrate the success of the film with this collector's figure iconicizing King T'Challa's superhero alter ego.
Diamond Select Toys makes some of the most detailed, acclaimed figures out there, and this is no exception. Sculpted by Gentle Giant and standing 7" tall, this is a must-have, especially for collectors.
Marvel's Avengers: Infinity War is the movie 10 years of film-making built up to. It was the endgame for the entire first decade of the MCU, and the finished result was a staggering, heartbreaking epic.
This figure set brings together some of the most iconic heroes—and villains—from the film in one place. From Iron Man to Groot, Black Widow to the despicable Thanos, the most popular members of the MCU are present and accounted for.
Keep them in the package and display as-is or open and recreate some of your favorite scenes from the movie.
Groot is one of the most beloved characters in the entire MCU because he brings heart and emotion to the Guardians of the Galaxy films. Also because he is so darn adorable.
This Dancing Groot is sound- and voice-activated and grooves along to the song "Come A Little Closer" from the first film. At just $19.99, it is the perfect addition to your kid's bedroom (or your own office desk).
One of the coolest things about the MCU is that it inspires young children to seek out the characters in comic book form from a young age. Thanks to Grow Up, Ant-Man! by Brandon T. Snider and Jessika von Innerebner, they can find their favorite heroes in a more traditional book setting, too.
What happens when Ant-Man takes his daughter Cassie's suggestion to GROW UP a bit too literal? Find out in this perfect addition to your child's bookshelf.
After a scene-stealing performance in Thor, Tom Hiddleston's Loki became a staple of the MCU, appearing as the main villain in The Avengers before becoming a reluctant sidekick of sorts to his older brother in Thor: Ragnarok.
This collectible figure by Quantum Mechanix immortalizes the god of mischief in plastic form, complete with his sweet horned head gear. Perfect for a fan of the MCU's premiere antihero at just under $13.
One of the best entries in the MCU, Thor: Ragnarok is a perfect combination of heart, humor and action.
Thor is left to question what he is without his hammer, Mjolnir, as he fights alongside his often-scheming half-brother Loki—and confronts a sibling he did not know he had in this superb film, available as a Blu-Ray/DVD Combo Pack for just $19.99.
The Funko Pop! series is so popular, it has spawned a company store in Washington State, a documentary on Netflix, and millions of new collectors.
One of the stars of the early Captain Marvel trailers was Goose The Cat, who interacts with Samuel L. Jackson's Nick Fury and figures to be an incredibly popular character in the film.
This Pop! ensures his legacy will endure in your display case for under $10.
The MCU would not exist without the initial success of the original Iron Man back in 2008. The godfather of the Marvel Cinematic Universe, Tony Stark is immortalized in this figure, inspired by his appearance in the 2012 film The Avengers, celebrating the series' first 10 years.
Featuring premium articulation and detailing, and modeled after the Fully-Loaded Rapid Deployment Mark VII suit, this figure is the perfect gift for fans of the snarky superhero with a heart of gold and suit of iron.
With the click of his fingers, Thanos brought balance to the universe in Marvel's Avengers: Infinity War. Now you can own a replica of the Infinity Gauntlet that made that possible with this officially licensed latex accessory.
A stationary fist, the hand does not open, but that does not make it any less cool. A perfect display piece that is much more affordable than most other options at just over $19, it will look right at home alongside the other pieces in your MCU collection.