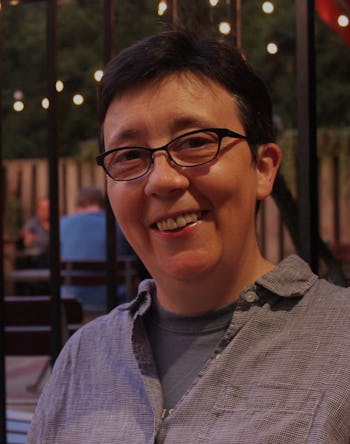 Culture
June Thomas of Slate Is Idiosyncratic Tastes Embodied: MEDIA DIET 
We're talking cop dramas, dentistry, pen podcasts, and jazz covers of David Bowie.
Sam Eifling
At Slate, June Thomas is a culture critic as well as the editor of Outward, the site's LGBTQ section. Thomas has to be on top of her media game. And is she ever: Oh, do you watch Game of Thrones? Cool story. June Thomas watches the bejeezus out of GoT and just about everything else. Reached via phone, Thomas unleashes a quirky firehose of niche knowledge. Don't drive the line against June with your mainstream picks. She will swat that shit into the stands.
"I am a TV obsessive," says Thomas, out of the gate. "Even people who are TV critics tell me, 'My God, you watch a lot of television.'" So what's at the top of her heap? "I have a special fondness for police procedurals," she says. "Even in the summer, there are really good ones. Right now, I am blowing the horn for Murder in the First. Like True Detective, it's an anthology series. The first season — of course I would never say it was based on him — featured a sort of Mark Zuckerberg, douchy, sex-crazed leader of a massively-adopted tech company in the Bay Area. This year, it's about school shootings and drug gangs. It's kind of an unholy mashup of every kind of prestige drama."
She goes on to namecheck Rookie Blue before pointing to a series that joins Murder in the First on TNT: "Major Crimes often has someone who seems like they're going to be a minor character be the murderer. They have the best track record for surprising you with the killer."
Citing her role with Outward, Thomas says, "I manage to combine my love of the gays and my love of television by being a major expert on every show that's ever had a gay character — especially a lesbian. If ever I go on Jeopardy!, I pray to God that one of the categories will be like 'Once Played a Lesbian.'" In that vein, she enjoyed Last Tango in Halifax, Cucumber, Banana, and Vicious. "I can only record four shows at once," she says, speaking of her work/life balance. "If I have to make a decision, I always prioritize the ones with gay characters, so I can stay on top of my job."
And if you don't think she's covering the territory well, then she'll throw a gem out there like this: "Lea DeLaria, who plays Big Boo on Orange Is the New Black, recently released an album of jazz covers of David Bowie songs. And it's almost got me listening to music again."
Her other coverage obsession, dentistry, also informs Thomas' reading habits. "Everyone is born with teeth, or grows them at some point," she says. "I think I'm the only person in the world who didn't go to dental school who subscribes to the ADA News, the news publication of the American Dental Association." Dentists, she says, tend not to get a favorable shake in fiction on the screen and off. "It's sad," she says. "They're usually either sadists or crazy people. Or just really dull people. They're usually damaged. The culture is not kind to dentists." From there, we talk about Reign Over Me and Tim Whatley for a hot minute.
June Thomas also listens to podcasts. But she probably doesn't listen to the podcasts you do. Thomas, who grew up in Manchester, England and lives in New York, listens to some BBC material to keep up with the homeland. Okay, that's not too out-there. Just wait. "Another one of my interests is stationery. I love paper, I love pens, I love pencils," she says. "And there are some really great podcasts about pens and pencils. I can see from here that you're skeptical." Man, June Thomas rules. She names a few. "There's a great, weekly podcast that's called The Pen Addict. It's been going for several years now. And there's a relatively new podcast, which is also very good, which is called Erasable. That's about pencils." She says she spends "a surprising amount of time" in the Pen Addict Slack group, reading a lot about, ya know, pens.
Asked about paper — in the form of magazines — Thomas says she gets a ton. "But the only ones I read as soon as they arrive are TV Guide and the ADA News." We take a moment to marvel that TV Guide still exists. She loves it. "It used to be kind of an intellectual magazine that asked questions like, 'Is television just a waste of my time?'" These days, it's a different animal. Highlighting the listings, she says, "Very few people need 'the grid' anymore, although it's still there. I like the way that TV Guide is a populist magazine. But, they have good writers and they do good interviews." But, I'd bet, most of the people getting interviewed aren't as interesting as June Thomas.