Random BnB Is the 'I Feel Lucky' of the World's Best Airbnb Listings
The site created by a bored traveler is an argument for longer layovers.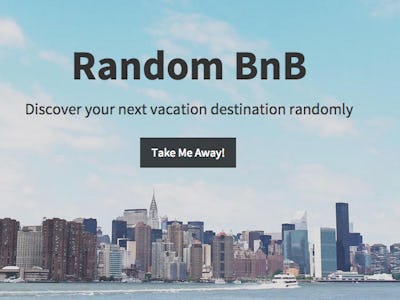 Random AirBNB
You're already assuming some risk with the crapshoot that is Airbnb. I once spent the night before a job interview in an East Williamsburg one-bedroom only to wake up at 4 a.m. to the finance guy tenant — who was supposed to be gone — back home on the couch with his buddies blowing rails and fumbling Drake lyrics. Thanks Dave, you asshole, wherever you are, hopefully scared and alone. Anyway, if the normal process of booking a stranger's place for the weekend isn't thrilling enough for you, you can now go for the mainline adrenaline rush of Random BnB, the Point Break of Airbnb.
Random BnB curates only the world's exotic, best-rated Airbnb listings, with one generated at random for you to book, which is actually a pretty fun idea. The site, which cautions it has no actual affiliation with Airbnb, says it was created by Ira Willey "while bored at YYJ airport."
When I clicked, it gave me a listing for a Gypsy wagon in a medieval French village, which looks goddamn amazing and now I'm desperate to go to France. Look at this thing's rustic charms. And only $318 a week. No joke, that's glorious and everyone should start taking life seriously and spend a week in something like that.
Willey has 337 followers on his Twitter account and may be ill-prepared to get rocked by investor followers begging him to take seed money. Dude, call me if you need a couch to crash on.