Blue Origin Just Landed Its First Rocket of 2019 Ahead of Crewed Flight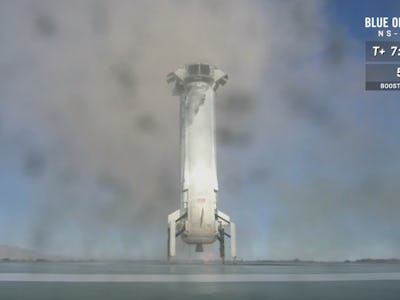 Blue Origin
Blue Origin successfully completed its first launch of the year on Wednesday, as its New Shepard rocket launched up 66 miles before the crew capsule touched back down on Earth. It's a strong milestone for Blue Origin, and one that paves the way for its more ambitious targets like a human flight.
The reusable rocket, on its 10th mission, launched at 10:05 A.M. Eastern. The mission sent up eight science projects for NASA's Flight Opportunities program. They included an experiment from the Carthage College Space Sciences Program focused on measuring fuel levels in microgravity using sound waves, another from the University of Florida that looks at biological experiments in microgravity, and one from the NASA Goddard Space Flight Center focused on how to pack electronics into spacecraft. After lifting off, the rocket and booster reached their highest altitude before separating. The rocket landed back down vertically before the crew capsule followed through a parachute landing, both of which landed in the Texas desert.
See more: Jeff Bezos, Founder of Aerospace Company, Wrong About Basic Space Fact
Blue Origin was founded by Amazon CEO Jeff Bezos 18 years ago, and alongside Elon Musk's SpaceX firm, it has blazed a trail for private spaceflight. The 530-square-foot New Shepard capsule is designed to take six people into space, pushing up through forces three times stronger than gravity before the capsule falls back to Earth.
The company's work holds a special place for Bezos, who told CNBC in April 2018 that the goal of sending humans to space "is super important to me. I believe on the longest time frame — and really here I'm thinking of a time frame of a couple hundred years, so over many decades…that Blue Origin, the space company, is the most important work I'm doing."
Ariane Cornell, the firm's head of sales, said during the launch's webcast that the company aims to complete this goal by 2019. However, the company has yet to start selling tickets for any such flights, and Cornell suggested that this deadline could be subject to change due to safety concerns.
With NASA employing private space firms to take its own astronauts to the International Space Station, a new era for space travel is well underway.