Play the Greatest Games of Your Childhood on This Great Handheld Device
Play games like Super Mario Bros. on the go.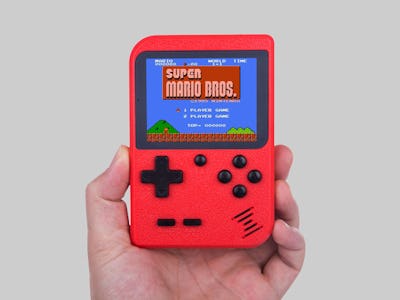 Inverse Shop
The Details:
Game for three hours on a single charge, saving your smartphone juice for other tasks throughout the day.
At 0.9"H x 4.6"L x 3.0"W, you can easily keep the GameBud in your bag while on the go.
Includes a special port and included AV cable so you can output to a TV, letting you switch between hand-held and traditional console modes on a whim.
Why You Want It: These days you can play a lot of old classic games on your smartphone, but there's still something special about analog controls. The GameBud Portable Gaming Console comes pre-loaded with 400 of the most acclaimed titles of yesteryear in all their 8-bit glory, and right now it's on deep discount.
The Deal: If you love classic games and want a modern alternative to vintage handhelds, check out the GameBud — 53 percent off and only $34.99 right now at the Inverse Shop compared to the usual $74.99 MSRP.