5 Ways Sake Dean Mahomed Changed Western Culture
Mahomed was celebrated in a Google Doodle.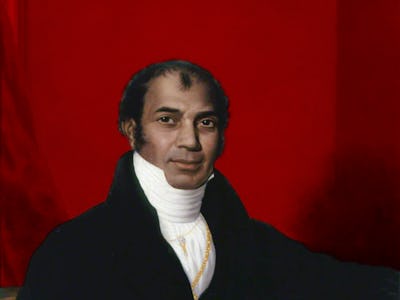 Inverse photo illustration from original portrait by Thomas Mann Baynes, via Brighton Museums
Google paid tribute to Sake Dean Mahomed on Tuesday, with a commemorative homepage doodle to celebrate the Indian entrepreneur on the day his first book was finished. Mahomed was born in 1759 and died in 1834, fading into obscurity in the years since his passing. His effect on English and wider western culture was profound, though, not least for introducing the concept of shampooing.
Mahomed started his life in Patna, India, and initially served as a soldier in the Bengal Regiment of the East India Company. From there, he rose through the ranks and went on to live a colorful life, later becoming something of a celebrity in his hometown of Brighton, England.
Here are some of the most astonishing accolades he earned throughout his life:
5. First Indian to Publish a Book in English
Mahomed joined the army in 1769 at the age of 11, gradually rising through the ranks before leaving in 1782. In 1794, Mahomed became the first Indian to write and publish a book in English, under the lengthy title The Travels of Dean Mahomed, a Native of Patna in Bengal, Through Several Parts of India, While in the Service of The Honourable The East India Company.
4. Breaking Down Orientalism
Mahomed's book changed history in more ways than one. It detailed his army career, his time in India, and his perspectives on England. As well as providing an insight into India's colonization, Harlan Whatley from the University of Texas says the book "presented for the first time the idea of England from an Indian immigrant's point of view and altered the 'Orientalist' outlook of early Western travel writings about the East."
3. Opened the First Indian Restaurant in England
Mahomed went on to open the first Indian restaurant in England in 1810, the Hindostanee Coffee House, located in London's Portman Square. The restaurant was described as offering "such delights as the Hookha 'with real Chilm tobacco, and Indian dishes, … allowed by the greatest epicures to be unequalled to any curries ever made in England; with choice wines." While a restaurant guide called the Epicure's Almanack sung its praises, the business failed, and he declared bankruptcy in 1812.
2. Steam Baths
His biggest success came after he moved south to Brighton in 1814. Capitalizing on the town's reputation as a therapeutic getaway with sea air to cure ailments, Mahomed opened up a bathhouse. He used Indian herbs and oils to treat his visitors, which struck a chord with the town at a time when King George IV's Indian-inspired Royal Pavilion was nearing completion. Mahomed's business became a great success.
1. Introduced the Concept of Shampooing
One of the bath's most famous treatments was the "shampooing," which came from the Hindi word "champissage" that describes a head massage. These techniques even proved popular with the king, who appointed him "shampooing surgeon." The position was even maintained under his successor William IV. Mahomed received a Royal Warrant for his work, indicating that he had provided goods and services to the royal family.