'Ready Player One' Author Ernest Cline Lands Massive Deal for Next Novel
If he writes it, someone will adapt it.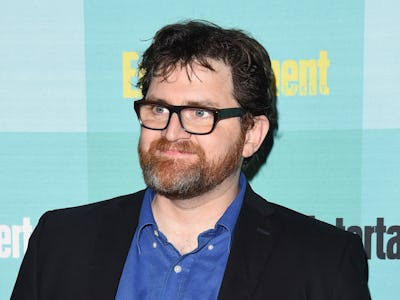 Getty Images
After bursting on the literary scene with the winking genre novel Ready Player One, which will be made into a movie by Steven Spielberg in 2017, and following that up with another New York Times bestseller, Armada, author Ernest Cline just landed a monster deal that's quickly turning him into a Hollywood/publishing industry juggernaut.
Cline inked an agreement with Crown Publishing — the same company that published Ready Player One and Armada — for an as-yet-untitled new book for an undisclosed amount that is said to reach into the mid seven figure range. The deal is for a new sci-fi novel, whose plot is also being kept under wraps, and includes a potentially lucrative movie option for an eventual big screen adaptation. According to Deadline, the film options for the book will start being optioned as soon as this week.
All the secrecy mixed with all the attention means that Cline is poised to become "a thing." Like J.K. Rowling or Stephenie Meyer before him, people are prepping Cline's work to spawn all kinds of merchandising and media options that could rake in millions for years to come.
Except Cline isn't burdened by having to return to a single series over and over, so he can basically set up and knock down whatever genre he wants to take on next. The only problem with that is he may just as easily lose the spark as quickly as he got it.
Ready Player One was about a teenager competing in a virtual treasure hunt, while Armada was about a teenage gamer who must defend Earth when spaceships from the game attack the planet (yes, dangerously close to Pixels). Both are filled with explicit references to the types of throwback movies, books, and more that nostalgic geek-types eat up, but they also build on their own stories in the same mode. This is what Spielberg will hope to do with his adaptation, and what Universal hopes to do with their adaptation of Armada, which they bought nearly three years before the book was even published.
His books have already been widely praised by the lucrative and social media-loving gamer community, so it's no wonder that Hollywood has come knocking. That's not too shabby for a guy whose only other credit was as a screenwriter on the doomed Star Wars love-letter Fanboys. Start cashing in those checks, Ernest, but make sure to keep the ideas coming.