Cowboys vs. Rams: Projected Winner for NFC Divisional Round Match-Up
A hive-mind of 31 NFL experts has made its prediction for this match-up.
by T.E. Andrews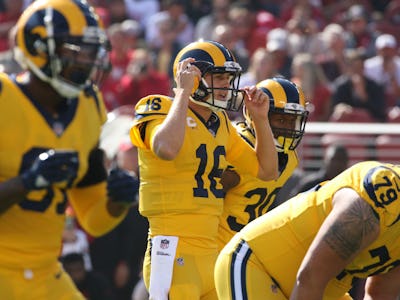 Corey Silvia/Icon Sportswire
The stars descend on Los Angeles for tonight's game between the Cowboys and Rams, which pits two all-time great running backs against each other: Ezekiel Elliott and Todd Gurley.
Elliott fueled Dallas' hard-fought victory over Seattle last week, delivering 169 total yards, a touchdown, and this devastating stiff arm to Seahawks defender Shaquille Griffin. Even scarier for opposing defenses, Zeke has announced that come playoff time, the Cowboys eat with two spoons, replacing his signature one-handed "eating" gesture after big plays with, well, the same gesture, but with two hands. Creativity!
We hope Zeke has been saving his appetite, because we expect Dallas to feed him with another steady diet of carries tonight, in an effort to control the time of possession and keep the Rams' offense off the field. For his part, Gurley put up another gaudy season for Los Angeles, rushing for more than 1,200 yards on the ground, receiving more than 500 yards through the air, and contributing an eye-popping 21 total touchdowns.
The Rams enjoyed a tremendously successful regular season, going 13-3 and locking up the No. 1 overall seed in the NFC playoff bracket. However, cracks showed in the final month of the season, as Los Angeles dropped back-to-back contests against a pair of playoff teams in Chicago and Philadelphia. On the other sideline, Dallas slogged through an up-and-down season before flipping a switch during the second half.
Going back to Week 10, the 'Boys have now won eight of their past nine games. Dallas' defense has also enjoyed a resurgence due to stellar play from its linebacking corps, led by Jaylon Smith and Leighton "The Wolf Hunter" Vander Esch, who literally hunts wolves in his free time.
Sure, the game is in Los Angeles, but we don't put too much stock in the Rams' home-field "advantage", given that they've only recently returned to The City of Angels. We expect Dallas' linebackers to do just enough to slow Mr. Gurley (who may or may not be nursing some lingering injuries) to bring home the W, in another victory for the road 'dogs in these playoffs. Cowboys 27, Rams 24 is my prediction, but how does a hive-mind of NFL experts predict this game ending up?
To predict the result of this 2018 NFL post-season match-up, Unanimous A.I. used what's known as swarm intelligence. A "swarm" of 31 NFL enthusiasts worked together as a hive mind to make their prediction, and as you can see in the animation below, each participant controlled a golden magnet and used it to drag the puck toward the result they thought was the most likely outcome. This is where it gets interesting: As a user sees the puck move toward a particular decision, it triggers a psychological response. They might readjust their thinking as the group builds toward a consensus. It's an artificial intelligence, produced by human brains, working together as a swarm.
As the animation above shows, the swarm of 31 NFL experts has high confidence that the Rams will win at home against the Cowboys on Saturday night.
The Cowboys play at the Rams at 8:15 p.m. Eastern Saturday on Fox.
Here's how Unanimous A.I. has predicted previous NFL games this season.
Unanimous A.I. has made some scarily accurate predictions in the past using swarm intelligence, as our this article explains. For instance, the swarm picked this year's Oscar winners with 94 percent accuracy. Here's Unanimous A.I. founder Louis Rosenberg explaining swarm intelligence at a recent TEDx Talk: