2019 NFL Playoffs: Predictions and Winner for Colts vs. Chiefs
A hive-mind of NFL experts has made its prediction for this match-up.
by T.E. Andrews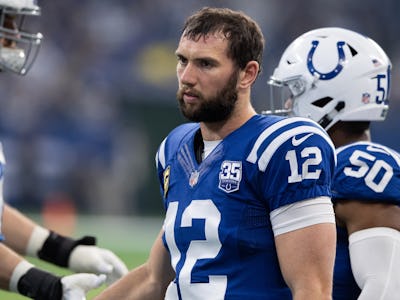 Zach Bolinger/Icon Sportswire
The Colts head to Arrowhead Stadium to take on the Chiefs in a playoff match-up between two of the NFL's young guns: Andrew Luck and Patrick Mahomes. During the regular season, the gunslinging duo combined to fire 89 touchdowns – the most scores ever thrown by two opposing quarterbacks in a playoff meeting. As in, forever-ever? Forever-ever.
Indianapolis arrived here by riding down south to Houston last weekend and knocking off the Texans in their own building for the second time in two months. The Colts raced out to a 21-0 halftime lead and never looked back, led by Luck and ferocious play from their offensive line, including this demolition of Jadeveon Clowney by guard Quenton Nelson. Breakfast is ready, and Chef Q only serves pancakes. After starting 1-5, Indy has now won 10 of its last 11 games, going back to Week 7. Should the Chiefs be looking over their collective shoulder?
Fortunately for Kansas City, there is no one in the NFL better at keeping his head on a swivel than the No-Look Ninja (you heard it here first) himself, Patrick Mahomes – who doesn't need to look at his receivers to complete passes to them. Mahomes, who may or may not be able to actually throw the damn ball clean out of the stadium, has spent this season casually setting fire to opposing secondaries and slinging 50 (!) touchdowns in his first full season as the starter. Even so (and despite their stellar 12-4 record), the Chiefs looked shaky in December, dropping two of their last three games to fellow playoff teams in the Chargers and the Seahawks.
Which brings us to this game. We want to roll with Mahomes and the Chiefs – we really do. But throughout his time in the NFL, Kansas City head coach Andy Reid has become known for two things: 1) creating innovative, high-scoring offenses; and 2) underwhelming in the postseason.
The Chiefs' defense is a sieve (except for its pass rush, and the Colts' offensive line will do just enough to stave off those pass rushers to give Captain Andrew Luck something else to write home about. Colts 30, Chiefs 28 is my prediction, but how does a hive-mind of NFL experts predict this game ending up?
To predict the result of this 2018 NFL post-season match-up, Unanimous A.I. used what's known as swarm intelligence. A "swarm" of 31 NFL enthusiasts worked together as a hive mind to make their prediction, and as you can see in the animation below, each participant controlled a golden magnet and used it to drag the puck toward the result they thought was the most likely outcome. This is where it gets interesting: As a user sees the puck move toward a particular decision, it triggers a psychological response. They might readjust their thinking as the group builds toward a consensus. It's an artificial intelligence, produced by human brains, working together as a swarm.
As the swarm replay above shows, a hive-mind of 31 NFL experts has low confidence that the Kansas City Chiefs will win on Saturday afternoon at home against the Colts.
The Colts play at the Chiefs at 4:25 p.m. Eastern Saturday on NBC.
Here's how Unanimous A.I. has predicted previous NFL games this season.
Unanimous A.I. has made some scarily accurate predictions in the past using swarm intelligence, as our this article explains. For instance, the swarm picked this year's Oscar winners with 94 percent accuracy. Here's Unanimous A.I. founder Louis Rosenberg explaining swarm intelligence at a recent TEDx Talk: