Destination Tesla Chargers Are Capturing the Golden Age of the American Car
The Inside Scoop has evoked an era.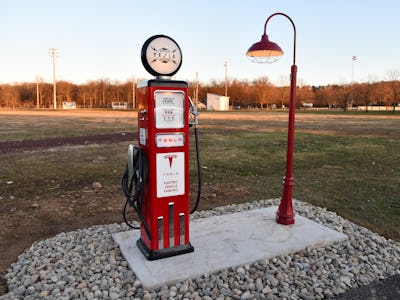 The Inside Scoop
When Tony Caciolo put the finishing touches on his Tesla electric car charger, he didn't expect to become an internet sensation. The destination charger is styled like a 1950s gas pump, designed to match his ice cream parlor, a fun mix of old and new that rapidly captured the imagination of the community.
"We just powered it up yesterday," Caciolo told Inverse on Wednesday. "I haven't announced it publicly on our website yet, although the word got out fast!"
Fast is one word for it. On January 7, the day before Caciolo even flicked the switch, a fan uploaded a photo of the charger to the Tesla subreddit, where it received nearly 5,000 upvotes.
Caciolo, a Tesla owner himself, is no stranger to the limelight. Along with his wife Penny, both 51, the couple runs The Inside Scoop in Coopersburg, Pennsylvania. Caciolo says the couple first went on dates in ice cream parlors in the nearby town of Emmaus when they were 15, and they were driven to recreate that business when they realized there was nowhere to take their son for celebratory ice cream after a baseball game. In its nearly 10 years of operation, it's become a cornerstone of the city, with a near-perfect review score on Facebook and over 100,000 visitors per year.
It's not the only nostalgic supercharger to evoke the fifties. Tesla CEO Elon Musk also seems to be a fan of the era, and he's suggested in the past that he plans to create an even more ambitious destination charger, complete with an "old school drive-in, roller skates & rock restaurant" at one of the Tesla Superchargers in Los Angeles.
So where does the future-minded Tesla owner's fascination with the fifties come from? One possibility is that chargers like Caciolo's create a link between present day and the golden age of the American car. The newly developed Interstate Highway system granted owners the freedom to travel cross-country at speed, and songs like "Brand New Cadillac" celebrated cutting-edge designs. Car ownership more than doubled between 1950 and 1958, giving rise to entirely new industries. McDonald's, in a sense, owes its success to the automobile, as it first gained traction by catering to all those new car owners who now sought fast food on-the-go. The space race was also getting underway as the Soviet Union and the United States completed orbital launches by 1957 and 1958 respectively.
It makes sense then that, as it surges from startup to big U.S. automaker, Tesla be on the lookout to evoke the car's golden age. And for his part, Caciolo took great care to emulate the feel of those old fashioned gas-pumps. He explained that it's a replica Texaco gas pump, with the logos replaced by Tesla logos and the gas pumps replaced with two charging cables. There's even a retro gas station light to complete the feel. The charger is part of Tesla's destination charging network, which complements the more powerful Tesla-operated "superchargers" by informing drivers of businesses where they can park and charge their car for a longer visit.
The charger is just one of Caciolo's many projects. Local news channel WFMZ last month reported on a new 20-foot statue outside the store, complete with ice cream scoop and cone. The vintage construction was previously used outside a Canadian gas station in the 1960s. Caciolo and his friend Chip Shupe found the statue smashed in a junkyard with a muffler in his hand.
"Penny loved the charger and she leaves the oddball creative stuff to me," Caciolo says. "She runs the business. My main gig is a homebuilder and pool builder, so my guys can build all of my crazy ideas."
Although Tesla lists the parlor as a convenient charging point, its wide selection of 100 homemade flavors (40 of which are available at any one time) and regular in-store events means it's more than just a neat pit stop. Flavors on the board include chocolate Oreo, peppermint mocha, birthday cake, and vegan pina colada. Caciolo notes that "at least half of our customers drive to us as opposed to just impulse drive by."
Musk has yet to release more details about his old-school drive-in, but in terms of evoking the spirit of a golden age of American automobiles, Caciolo may have already beaten him.