CES Rescinded an Innovation Award for a Vibrator, Calling It "Obscene"
But "stripper" robots, "booth babes,"  and heterosexual VR porn? Futuristic, baby!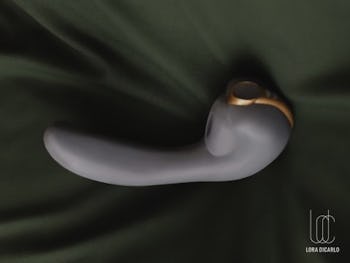 https://loradicarlo.com/pages/ose-feature-list
When Lora Haddock received news that her startup's star product had been awarded one of the CES consumer tech show's most prestigious awards, she was more than thrilled. She felt validated.
As founder of Lora DiCarlo, a sex tech company whose brand is sex-positive, gender-inclusive and pro-LGBTQIA, Haddock had spent years heading up a predominantly female team of engineers and partnering with Oregon State University's robotics engineering lab. The result was the Osé personal massager, a hands-free device that promises "blended orgasms" through micro-robotics that mimic a mouth, tongue and fingers. And in October 2018, Haddock and her team won a 2019 CES Innovation Award in the Robotics and Drones category, after the Osé personal massager was vetted by the Consumer Technology Association and judged by a panel of independent judges.
"This feather in our collective cap made years of research and engineering even more worthwhile and further validated our vision for creating innovative, inclusive products that change lives," said Haddock in a public statement.
But two weeks later, Haddock and her company received a double whammy of disappointment. The Consumer Technology Association (CTA), which owns and runs CES, was rescinding Osé's Innovation Award honor. Lora DiCarlo was subsequently banned from exhibiting at the 2019 show.
What's CES's Beef With Vibrators?
According to Haddock, the CES and CTA initially cited a clause within the entry guidelines that stated, "Entries deemed by CTA in their sole discretion to be immoral, obscene, indecent, profane or not in keeping with CTA's image will be disqualified." Later, CTA CEO Gary Shapiro and Executive VP Karen Chupka reportedly co-wrote a letter to Haddock, clarifying that her product was actually ineligible for the Robotics and Drones category completely.
In a statement emailed to Inverse, CTA now says the Osé should never have been accepted into the Innovation Awards Program in the first place, as the product does not fit into any of the existing product categories.
"We have apologized to the company for our mistake," said a CTA spokesperson.
CTA's decision to pull the Osé is a surprise for several reasons. For one, you may remember the build up to last year's CES 2018, when the organization came under fire for rolling out an initial batch of keynote speakers that included no women (they later added two).
It's also unclear why the Osé shouldn't be considered a robot, it is, after all, a mechanized replacement for a task traditionally done by humans (admittedly a significantly more fun task than patrolling construction sites or sweeping your floor, but a task nonetheless). To DiCarlo, the whole episode underscores how hostile what many consider the country's premier consumer tech event remains for many woman, particularly women-founders.
See also: Will Sex Robots Replace Humans?
CES's History of Sexism
At last year's conference, some of the most talked-about robots were hardly the most technologically advanced. In a display that CES organizers insisted was not sanctioned, Sapphire Gentlemen's Club debuted two "stripper" robots sporting white breast plates, rounded hips and butts, and security cameras for heads. At the foot of their poles, to which the robots were tethered, sat tip jars emblazoned with slogans like, "Need $$$ For Batteries" and "M.I.T. Bound."
Sure, CES was mad (or whatever) about that one. But the same year, RealDoll, a "love doll" company, debuted Harmony, a hands-on sex robot.. And the year before, in 2017, Naughty America debuted a VR porn booth which reportedly attracted over 1,000 attendees within the first 24 hours. All three available VR situations were heterosexual scenes from the male perspective. Neither Harmony nor the VR porn were considered obscene. Both were accepted as official exhibitors by CES.
Then there's the continuing practice of hiring "booth babes" - young women, often fitness models - to attract crowds at specific booths. A practice that, in 2012, Gary Shapiro, CEO of CTA - who co-wrote that letter to Haddock and Lora DiCarlo - openly defended, saying, "It is a little old school, but it does work. People naturally want to go towards what they consider pretty."
Oh, and then there's the harassment routinely experienced by women, who in 2018 made up about 20 percent of the 150,000 attendees, navigating the show floor.
OH, and the completely male lineup of keynote speakers in 2017. And the initially all-male lineup in 2018, too, before protests led to organizers appointing two female speakers at the last minute.
At the end of 2018, CES promised to "redouble" efforts to diversify the speaker lineup for this year's conference. 45 percent of featured speakers for CES 2019 are women; 60 percent are women of color. Nearly half of the nearly 1,100 total speakers on the agenda are women. Several sessions will directly address cultural blind spots within the tech world, including a "Bias in AI" talk, which will hone in on racial and gender-related shortcomings in AI technology and will be led exclusively by women.
But one cultural blind spot that's not only been ignored, but outright banned, by CES? Female sexual pleasure.