College Football National Championship 2019: Full Preview and Winner for Alabama vs. Clemson
A swarm of 31 experts has made its prediction for the game.
by T.E. Andrews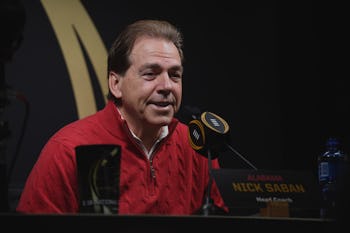 Chris Williams/Icon Sportswire
When Alabama and Clemson take the field, the pundits will label tonight's game the fourth consecutive battle between the No. 1 and No. 2 teams of the College Football Playoff era, and they're not wrong. But in reality, the true matchup is Nick Saban vs. history. At this point, Saban no longer really competes with the other coaches in the other elite programs around the country.
Having vanquished all of his peers, he stands alone as the undisputed king of the hill, resembling an older (but still "extremely handsome") Brad Pitt playing Achilles in Troy, asking, "Is there no one else?". Saban has reached that elevated LeBron-level of being, where he chases only ghosts in record books and competes against history itself.
Much as the scribes will forever compare King James to His Airness, Michael Jordan, Saban's only true remaining competition comes in the form of legendary coaches long past: Knute Rockne. Pop Warner. And of course, this being Alabama, Bear Bryant, the immortal coach who won six national titles with the Crimson Tide and fashion icon who made the houndstooth fedora well, a thing. And you know what? Saban is better than all of them. College football used to be a regional sport. The game has now gone truly national, and there is more money at stake and more competition for recruits than ever.
As Slim Charles once said on The Wire, "The game the same – just got more fierce."
Once upon a time, a select few coaches such as Les Miles and Urban Meyer could look Nick Saban in the eye as "peers." That was before the LSU boosters ran Miles out of Baton Rouge after he stopped delivering the occasional win over the Tide. Miles coaches Kansas now. Likewise, Darth Urban Meyer won multiple national titles and managed to knock off Saban's Crimson Tide in the 2015 Sugar Bowl en route to his third national title, but has also since retired from the sport (again).
Only Saban remains. And with Meyer gone, he now has more national titles than all other active college football coaches combined. Like Bryant before him, Saban ain't never been nothing but a winner. Both coaches have six national titles to their names, but one of Saban's came during his time at LSU. Emperor Saban can tie Bryant's count at Alabama and surpass him overall with a win tonight.
Under Saban's watch, Alabama's dominance over the sport has remained as inexorable as the elements, but there is one – and only one – program that has come close to rivaling the Tide's success during the playoff era: Clemson. After missing the inaugural College Football Playoff, the Tigers have made the next four in a row, winning three semifinal games and the 2016-2017 national championship, on this epic connection from superstar quarterback DeShaun Watson to walk-on receiver Hunter Renfrow.
When the Tide and Tigers face off tonight, it will likewise be their fourth consecutive matchup in the playoffs and their third with the title on the line – enough for Clemson head coach Dabo Swinney to consider it an official rivalry. With Meyer's retirement, Swinney – who played wide receiver on Alabama's 1992 title team – has taken his mantle as the second-best coach in college football, although he'd be the first to admit that Clemson needs to beat Alabama more often. As he put it, "Ain't much a rivalry when you're losing. We gotta win more."
Which brings us to tonight's game. Expect a close one: the last two title games between these heavyweight programs were decided by five points or less. The Swarm likes the Tide with low confidence tonight and reluctantly, we agree. Clemson edged Bama two years ago, but those Tigers had the transcendent talents of Watson under center. This time, the Tide have the advantage at quarterback in the electric Tua Tagovailoa, who has spent this year's campaign doing things like this with alarming regularity.
The future looks bright for Trevor "Sunshine" Lawrence, but the precocious youth remains a true freshman, despite his five-star rating and status as the No. 1 recruit in the country for the 2018 class. We'll roll with the Tide's edge in experience on the big stage (remember this from last year?) to win Alabama's sixth national championship in the past decade and second in the row, as Nick Saban further cements himself as the coaching GOAT. Alabama 31, Clemson 27, is my prediction, and below is how a hive-mind of college football experts thinks this one will turn out:
To predict the result of the 2019 College Football Playoff National Championship, Unanimous A.I. used what's known as swarm intelligence. A "swarm" of 31 college football experts worked together as a hive mind to make their prediction, and as you can see in the animation below, each participant controlled a golden magnet and used it to drag the puck toward the result they thought was the most likely outcome. This is where it gets interesting: As a user sees the puck move toward a particular decision, it triggers a psychological response. They might readjust their thinking as the group builds toward a consensus. It's an artificial intelligence, produced by human brains, working together as a swarm.
As the animation above shows, the swarm has low confidence that Alabam will win against Clemson in the 2019 College Football Playoff National Championship.
Clemson plays Alabama at 8 p.m. Eastern Monday on ESPN. The game will be played at Levi's Stadium in Santa Clara, California.
Here's how Unanimous A.I. has predicted NFL games this season.
Unanimous A.I. has made some scarily accurate predictions in the past using swarm intelligence, as our this article explains. For instance, the swarm picked this year's Oscar winners with 94 percent accuracy. Here's Unanimous A.I. founder Louis Rosenberg explaining swarm intelligence at a recent TEDx Talk: