LSU vs. UCF: Prediction for Fiesta Bowl Match-Up
A "swarm" of 30 college football experts have worked together as a hive-mind to make their prediction.
by T.E. Andrews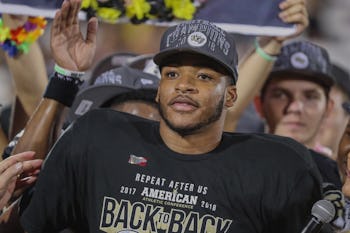 Joe Petro/Icon Sportswire
Does UCF deserve a seat at the table with the big boys? The upstart Knights will get another shot at proving their worth on a national stage when they take on the LSU Tigers in this afternoon's Fiesta Bowl.
Central Florida rides a 25-game winning streak into this afternoon's Fiesta Bowl against Louisiana State, but once again the Knights find themselves shut out of their ultimate goal – a shot at competing in the College Football Playoff. A year ago, the powers-that-be left UCF out of the playoff, instead pitting the Knights against the Auburn Tigers. All UCF did was deliver a convincing 34-27 win over an SEC West opponent, led by linebacker Shaquem Griffin, who has accomplished more in this life with one hand that you ever will with two. Sound familiar?
As they did last year, the Knights ran the table, compiling a perfect 12-0 record. And for the second year in a row, the selection committee snubbed UCF, leaving them out of the playoff. You see, college football is a good ol' boys club, with the committee's members being composed primarily of representatives from the so-called "Power Five" conferences – the SEC, Big 10, Big XII, ACC, and Pac-12. These club members don't like schools from outside the Power Five crashing their postseason party, because that means less exposure and prestige (read: money) for their member schools. Having been deprived of a chance to play for the national title, it's once again time for UCF to nut up or shut up by proving the doubters wrong the old-fashioned way – on the football field.
Which brings us to tonight's game. Scott Frost, the golden-boy coach who led the Knights to last season's undefeated season, left for the greener pastures frozen tundra of Nebraska (read: more money). No matter – the wins just kept coming in, even though hurricane season deprived UCF of its game against UNC, leaving only the Pitt game as its contest against a Power Five opponent. Quarterback McKenzie Milton also went down with a knee injury. No matter – the Knights swapped in redshirt freshman Darriel Mack and haven't skipped a beat.
The Swarm likes the Tigers in this one, but that's no fun. We'll take the Knights in another upset, as public opinion mounts to give these guys a crack at the playoff. Even if UCF managed to get into the post-season tournament and got killed, who cares? It's not like Notre Dame or Oklahoma did much of anything against the Clemsons and Alabamas of the world. Besides, LSU coach Ed Orgeron sounds like the guy from The Waterboy. If the selection committee won't give UCF its due, perhaps the Knights will just have to go own raising their own championship banners and giving out their own championship rings. UCF 24, LSU 21 is my predicted scoreline. Below is how a swarm of college football experts came to its prediction.
To predict the result of this college bowl game match-up, Unanimous A.I. used what's known as swarm intelligence. A "swarm" of 29 college football enthusiasts worked together as a hive-mind to make their prediction, and as you can see in the animation below, each participant controlled a golden magnet and used it to drag the puck toward the result they thought was the most likely outcome. This is where it gets interesting: As a user sees the puck move toward a particular decision, it triggers a psychological response. They might readjust their thinking as the group builds toward a consensus. It's an artificial intelligence, produced by human brains, working together as a swarm.
As the swarm replay above shows, the hive-mind of 29 college football experts has low confidence that LSU will win against UCF.
LSU plays UCF in the 2019 Fiesta Bowl at 1 p.m. Eastern on Monday. The game is at State Farm Stadium in Glendale, Arizona, and will be broadcast on ESPN.
Here's how Unanimous A.I. has predicted NFL games this season.
Unanimous A.I. has made some scarily accurate predictions in the past using swarm intelligence, as our this article explains. For instance, the swarm picked this year's Oscar winners with 94 percent accuracy. Here's Unanimous A.I. founder Louis Rosenberg explaining swarm intelligence at a recent TEDx Talk: