Citrus Bowl 2018: Preview and A.I. Prediction for Penn State vs. Kentucky
A "swarm" of 30 college football experts have worked together as a hive mind to make their prediction.
by T.E. Andrews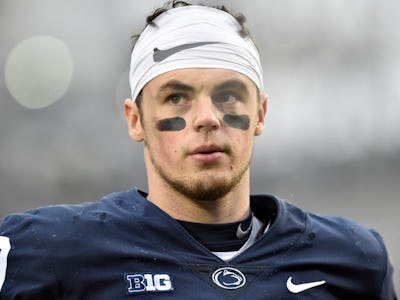 Randy Litzinger/Icon Sportswire
Bowl season heats up just in time for you to shake off your New Year's hangover while taking in the Citrus Bowl (and hopefully some hydrating fluids) as you lay moaning on your couch.
Both Penn State and Kentucky finished 9-3 this season, but the latter's fanbase may be happier than the former's, given that the Wildcats managed to finally slay the dragon and beat the rival Florida Gators for the first time in 31 years.
To put that in perspective, the last time Kentucky beat Florida, the Gipper himself was in the Oval Office, the internet wasn't a thing, and yours truly was but a precocious whelp, trolling newborns born into rival fanbases in the nursery. So yeah, it's been a while. The Wildcats went on to compile a 5-3 record in-conference and finish second in the SEC East, behind only Georgia.
On the other sideline, the Nittany Lions went 9-3, but with all three losses coming to divisional rivals Ohio State, Michigan State, and Michigan, Penn State can hardly be satisfied. In particular, the Ohio State loss must stick in the craw, as head coach James Franklin made a terrible playcall to run the ball directly into the teeth of the Buckeye's run defense on Penn State's final possession, which had been stonewalling the Nittany Lions' rushing attack all evening (and during a white-out game, nonetheless).
Which brings us to tonight's game. Like Ohio State, Kentucky has a stingy defense led by all-everything linebacker Josh Allen, winner of both the Bednarik and Nagurski trophies for the best defensive baller in the land. Enjoy that hardware, young man – you earned it. Can Penn State quarterback Trace McSorley end his career on a high note? Or will he run into (another) wall?
The Swarm A.I. likes the Nittany Lions with low confidence in this one. We beg to differ, as we suspect there is an East Coast, pro-Penn State sampling bias which has infected the hive mind. Down with the coastal elites! We'll roll with the Wildcats in a mild upset, given the Big 10's atrocious bowl season to date. S-E-C!! S-E-C!! Kentucky 27, Penn State 24, is my prediction for the score, but how did a swarm of college football experts come to its decision about the outcome?
To predict the result of this college bowl game match-up, [Unanimous
As the swarm replay above shows, the hive-mind of 30 college football experts has low confidence that Utah will win against Northwestern in the 2018 Holiday Bowl on New Year's Eve.
Alabama plays Oklahoma in the 2018 Orange Bowl at 7 p.m. Eastern on Monday. The game is at SDCCU Stadium in San Diego, California, and will be broadcast on FS1.
Here's how Unanimous A.I. has predicted NFL games this season.
Unanimous A.I. has made some scarily accurate predictions in the past using swarm intelligence, as our this article explains. For instance, the swarm picked this year's Oscar winners with 94 percent accuracy. Here's Unanimous A.I. founder Louis Rosenberg explaining swarm intelligence at a recent TEDx Talk: