Peach Bowl 2018: Preview and Prediction for Florida vs. Michigan
A "swarm" of 30 college football experts have worked together as a hive mind to make their prediction.
by T.E. Andrews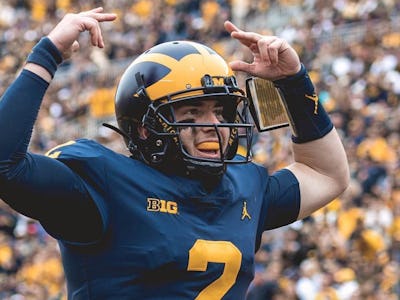 Michigan Football
Florida-Michigan… again? Didn't we just do this? If this match-up between the Gators and Wolverines gives you a sense of déjà vu, you're not alone – it feels like just yesterday that we watched Michigan muzzle the Gators in the 2017 season opener, in Dallas. The year before that, Michigan beat up on Florida again in the Citrus Bowl, winning 41-7. Things have changed on the Florida sideline since that 33-17 smackdown, while things remain pretty much the same for the Wolverines.
Dan Mullen has taken over in the Swamp and turned in a positive performance in Year One, leading the Gators to a 9-3 record in what many thought would be a rebuilding season, including a signature win over rival LSU. Meanwhile, prodigal son and living meme Jim Harbaugh has returned Michigan to consistently good, if not elite, play.
The thorn in Coach Harbaugh's side has been Ohio State and outgoing head coach Darth Urban Meyer, who spoiled many a promising Michigan season in The Game, much like a video game boss in the final level (think Bowser's Castle). The good news for Michigan is that Meyer will no longer stalk the Buckeyes' sideline, as health issues have forced the three-time national champion into retirement (again… for now). For the time being, however, the Wolverine faithful will have to content themselves with another appearance in a New Year's Six bowl game after missing out on the playoff yet again.
On paper, this looks like a game Michigan should win. However, these two programs may be on different arcs, as Mullen's squad looks like it's on the upswing, while Harbaugh's may have plateaued. After missing out on the playoff, it's unclear how motivated the Wolverines will be for this game.
Several Michigan players will also sit out the game to prepare for the NFL draft, including defensive end Rashan Gary, linebacker Devin Bush, and running back Karan Higdon. It's almost like they know this is a meaningless exhibition game and they could lose millions of dollars if they were to play and get hurt!
Even so, UM enters this game on a four-game winning streak against UF. Mullen may change the trajectory of the Gator program, but not today. We know how Jim Harbaugh feels about chicken (don't eat it, because it's a "nervous bird"), but how about feasting on alligator?.
Harbaugh has presumably had enough time to lick his wounds after the Ohio State loss and reload on whole milk and vitamins. Michigan 28, Florida 21, is my prediction, but how does a hive-mind of college football experts predict this game turning out?
To predict the result of this college bowl game match-up, Unanimous A.I. used what's known as swarm intelligence. A "swarm" of 30 college football enthusiasts worked together as a hive mind to make their prediction, and as you can see in the animation below, each participant controlled a golden magnet and used it to drag the puck toward the result they thought was the most likely outcome. This is where it gets interesting: As a user sees the puck move toward a particular decision, it triggers a psychological response. They might readjust their thinking as the group builds toward a consensus. It's an artificial intelligence, produced by human brains, working together as a swarm.
As the swarm replay above shows, the hive-mind of 30 college football experts has low confidence that Michigan will win against Florida in the 2018 Peach Bowl on Saturday afternoon.
Florida plays Michigan in the 2018 Peach Bowl at 12 p.m. Eastern Saturday. The game is at Mercedes-Benz Stadium in Atlanta, Georgia, and will be broadcast on ESPN.
Here's how Unanimous A.I. has predicted NFL games this season.
Unanimous A.I. has made some scarily accurate predictions in the past using swarm intelligence, as our this article explains. For instance, the swarm picked this year's Oscar winners with 94 percent accuracy. Here's Unanimous A.I. founder Louis Rosenberg explaining swarm intelligence at a recent TEDx Talk: