Who Will Win Northwestern vs. Utah? A.I. Predicts
A "swarm" of 30 college football experts have worked together as a hive mind to make their prediction.
by T.E. Andrews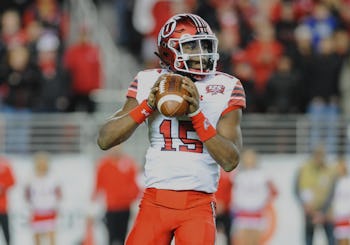 Samuel Stringer/Icon Sportswire
Northwestern pieced together a very successful season in head coach Pat Fitzgerald's 13th season, picking up conference wins over Purdon't Purdue, Sparty Michigan State, Nebraska, Wisconsin, and Iowa (the latter two being ranked at the time). The Wildcats also gave Notre Dame a run for its money and Michigan about all it could handle before losing late. Ohio State trounced Northwestern in the Big 10 title game, but there's no shame in that, given the disparity in recruiting and football resources between these two programs.
Call this game the Bizarro Runner-Up Rose Bowl. Northwestern takes on Utah in tonight's San Diego Credit Union Holiday Bowl in a match-up of teams that won their respective divisions (the Big 10 West for the Wildcats and the Pac-12 South for the Utes), but lost in their conference-championship games.
For their part, the Utes have also enjoyed a strong 9-4 season in head coach Kyle Whittingham's 14th campaign, notching victories over Stanford, Arizona, USC, UCLA, and Oregon. Unfortunately for Utah, Washington proved to be its bane this season, as the Utes lost both their conference game against the Huskies back in September and the Pac-12 title game, in a 10-3 rock fight of a game that only a defensive coordinator could love.
You could say that the Utah let the Pac-12 championship slip through its fingers, but it would be more accurate to say that the Utes let the title slip through its grasp and bounce off its butt, as receiver Siaosi Mariner had the misfortune of dropping a pass from quarterback Jason Shelley, then watching it carom off his backside and into the waiting hands of Washington defender Byron Murphy, who returned it for a pick-six. Them's the breaks of the game.
Which brings us to tonight's Holiday Bowl. Both of these quarterbacks are highly successful, longtime incumbents at their respective schools, but rumors circulated this week that Fitzgerald may interview for the open head-coaching gig with the Packers. A native son in Wildcat territory, Fitzgerald played for Northwestern back in the '90s, earning pretty much every award a linebacker can in the process. Will Fitzgerald's wandering eye cast a pall over tonight's game? On the other sideline, Whittingham said that it "would take a miracle" for quarterback Tyler Huntley to play in tonight's Holiday Bowl.
Even so, Jason Shelley did fine in relief for the injured Huntley in Utah's last four games in November, winning three of the final four contests. The AI Swarm likes the Utes with low confidence in this one. We agree. Let the Big 10's bowl-season woes continue. Utah 24, Northwestern 17, is my prediction, but how does a hive-mind of college football experts predict this year's Holiday Bowl?
To predict the result of this college bowl game match-up, Unanimous A.I. used what's known as swarm intelligence. A "swarm" of 30 college football enthusiasts worked together as a hive mind to make their prediction, and as you can see in the animation below, each participant controlled a golden magnet and used it to drag the puck toward the result they thought was the most likely outcome. This is where it gets interesting: As a user sees the puck move toward a particular decision, it triggers a psychological response. They might readjust their thinking as the group builds toward a consensus. It's an artificial intelligence, produced by human brains, working together as a swarm.
As the swarm replay above shows, the hive-mind of 30 college football experts has low confidence that Utah will win against Northwestern in the 2018 Holiday Bowl on New Year's Eve.
Northwestern plays Utah in the 2018 Holiday Bowl at 7 p.m. Eastern on Monday. The game is at SDCCU Stadium in San Diego, California, and will be broadcast on FS1.
Here's how Unanimous A.I. has predicted NFL games this season.
Unanimous A.I. has made some scarily accurate predictions in the past using swarm intelligence, as our this article explains. For instance, the swarm picked this year's Oscar winners with 94 percent accuracy. Here's Unanimous A.I. founder Louis Rosenberg explaining swarm intelligence at a recent TEDx Talk: