Alabama vs. Oklahoma: Preview and Prediction for Orange Bowl Match-Up
A "swarm" of 31 college football experts have worked together as a hive mind to make their prediction.
by T.E. Andrews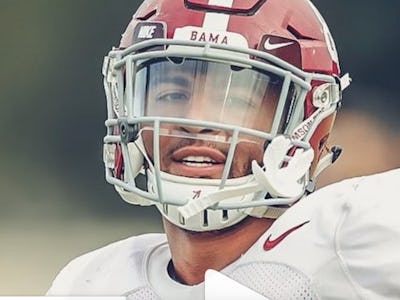 Alabama Football
Can anyone slow Alabama's roll? Since taking over as head coach in 2007, Nick Saban has made the Crimson Tide nearly as inevitable as death and taxes, at least when it comes to making regular appearances in the College Football Playoff and lifting the large tube of lipstick national championship trophy at the end of it. If this seems like high praise, perhaps we are actually selling Alabama short – not everyone pays their taxes. Only the Grim Reaper has a better record against the spread than Emperor Saban.
The Crimson Tide has rolled to win five (!!!!!) of the last nine national titles, cementing itself as not only the reigning dynasty in the college-football world, but one of the best of all time. Most recently, Saban inserted backup quarterback Tua Tagovailoa at halftime of last year's title game against Georgia, where the precocious youth proceeded to fire this cruise missile of a touchdown pass in overtime to put down the Bulldogs and deliver Alabama's second title in the past three seasons.
One more time, with feeling (and LEGOs)!!. And the rest, as they say, is history, with Tagovailoa leading the Crimson Tide to yet another undefeated season this year, despite concerns from Alabama message-board regulars that the Hawaiian-born Tagovailoa might struggle with the language barrier after moving to the continental U.S. Troll damn Tide!!
This isn't fair – in years past, Bama won by pairing lights-out defense with a ground-and-pound running game helmed by a succession of bland-but-effective game managers such as Greg McElroy and A.J. McCarron. With the addition of Tagovailoa, Alabama has added a game-breaking playmaker at the sport's most important position. It saddens us to report that the Death Star is, in fact, fully operational.
However, one trophy eluded Tagovailoa this season: the Heisman Memorial Trophy (you may have heard of it). Enter Kyler Murray, the two-sport star and Heisman heir who took home the hardware after setting the Big XII on fire a year after Baker Mayfield pulled off the same feat. Murray and his head coach, offensive innovator Lincoln Riley, will get a crack at stemming the Tide in prime time tonight. At this point, we have essentially fallen victim to Stockholm Syndrome: if you can't beat 'em, don't pick against them.
All signs point toward the Sooners' inability to stop the Alabama offense, while the Crimson Tide will likely manage to slow Oklahoma just enough to come away with a two-score victory. Alabama 42, Oklahoma 28, is my prediction, but how does a hive-mind of college football experts see this game turning out?
To predict the result of this college bowl game match-up, Unanimous A.I. used what's known as swarm intelligence. A "swarm" of 31 college football enthusiasts worked together as a hive mind to make their prediction, and as you can see in the animation below, each participant controlled a golden magnet and used it to drag the puck toward the result they thought was the most likely outcome. This is where it gets interesting: As a user sees the puck move toward a particular decision, it triggers a psychological response. They might readjust their thinking as the group builds toward a consensus. It's an artificial intelligence, produced by human brains, working together as a swarm.
As the swarm replay above shows, the hive-mind of 31 college football experts has low confidence that Alabama will win against Oklahoma in the 2018 Orange Bowl on Saturday night.
Alabama plays Oklahoma in the 2018 Orange Bowl at 8 p.m. Eastern Saturday. The game is at Hard Rock Stadium Miami Gardens, Florida, and will be broadcast on ESPN.
Here's how Unanimous A.I. has predicted NFL games this season.
Unanimous A.I. has made some scarily accurate predictions in the past using swarm intelligence, as our this article explains. For instance, the swarm picked this year's Oscar winners with 94 percent accuracy. Here's Unanimous A.I. founder Louis Rosenberg explaining swarm intelligence at a recent TEDx Talk: